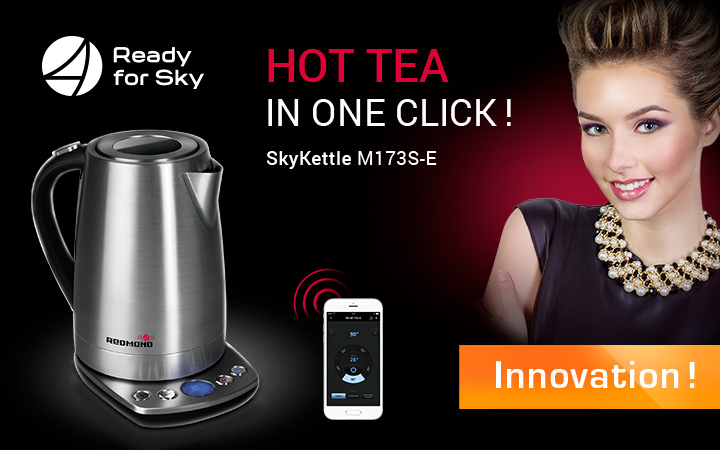 The REDMOND company released a new device in the range of Smart home appliances – the smart kettle Skykettle M173S-E with a smartphone control system.
Would you like to have a cup of hot tea immediately after returning from work? Are you tired of thinking about the water temperature for baby formula? Are you trying to save each minute in the morning to sleep a little bit longer? Does your kettle cool down very fast and you have to reboil water over and over again? Smart kettle will help to solve all these problems!
You can control the smart kettle via the Ready for Sky mobile app. You can boil water from everywhere in the world*.
Besides water boiling function, the smart kettle can maintain hot water within the range from 40⁰С to 100⁰С. This function is especially useful when you wish to make rear sorts of tea or prepare an infant formula.
If you are busy with other things and forget about your tea, the smart kettle will wait for you! The smart device can maintain a certain water temperature for up to 2 hours.
The alarm function for the smart kettle is available in the app. In addition, the function of instant water boiling after melodious alarm is provided for those who cannot imagine their morning without a cup of a hot drink.
Smart multikitchen has limited Chrome and Bronze surface edition and features a refined and elegant appearance.
---
*When connected to R4S Gateway from your home Android smartphone/tablet