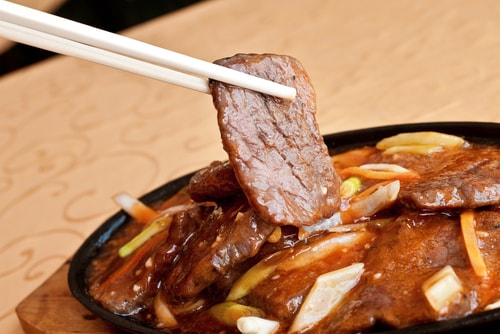 Cacciatore Chicken
Craving for Italian? Try the delicious, rustic poultry-vegetable hunter's stew in tomato sauce laden with mushrooms, onions, and flavorful herbs. These Cacciatore Chicken pieces will fall off the bone, and you'll be catching all those flavorful meat!
What you'll need:
2 lbs boneless, skinless chicken breasts cut into chunks;
3 tbsp olive oil;
1/4 cup chicken broth;
1 cup white wine;
3 cups sliced mushrooms;
1 can tomato paste;
1 large onion, chopped;
2 tsp garlic powder;
1/2 tsp dried basil leaves or oregano or thyme;
salt and pepper.
How to pressure cook:
Place oil in the pot, brown chicken for 5 minutes then add the rest of the ingredients.
Close the lid and bring to high pressure, ideally at 15 pounds of pressure (psi). Cook for 10 minutes.
Release the pressure and take off the lid. Stir and ensure the chicken's temperature is at 165 F.
Spoon juices from the pot and smother over chicken and pasta!
Barbecue Pork Spare Ribs
The pressure cooker is known for tenderising meats that deliver tantalising food on the table. Any weekday meal becomes extraordinary with a mouthwatering barbecue to share with the family, and a sweet sauce to savor with your special someone.
What you'll need:
900 g boneless pork ribs cut in serving pieces;
3 tsp canola oil;
1 tsp onion salt;
1 tsp paprika;
1 tsp pepper;
240 ml water;
3 tbsp ketchup;
5 tsp white vinegar;
1 tsp Worcestershire sauce;
1 tsp mustard;
1/8 tsp celery seed.
How to pressure cook:
Season ribs with onion salt, paprika and pepper. Heat oil in pressure cooker pot then brown the meat on all sides.
Once done, drain the ribs. Return to the pressure cooker and combine with the rest of the ingredients.
Secure lid then place your pressure cooker on vent pipe. Bring to high pressure over high heat, then reduce to medium-high and cook. After cooking for 15 minutes, naturally release the pressure.
Serve your saucy homemade barbecued pork ribs hot!
Mongolian Beef
A Chinese classic that's a tasty and easy, outstanding dish. You'll be blown away by how tender the meat becomes only after 12 minutes in the pressure cooker! Mongolian Beef will be a big hit to your family come lunch or dinner.
What you'll need:
2 lbs flank steak cut into strips;
1 tbsp vegetable oil;
4 cloves garlic, pressed or minced;
1/2 tsp fresh ginger, minced;
1/2 cup soy sauce;
1/2 cup water;
2/3 cup dark brown sugar;
salt and pepper.
For the sauce:
2 tbsp cornstarch;
3 tbsp water;
3 green onions, sliced into pieces.
How to pressure cook:
Season beef flanks then brown in oil in the pressure cooker pot.
Add and saute garlic for a minute, then mix in the rest of the ingredients except the sauce part.
Select high pressure and set the timer for 12 minutes. Do a quick release then wait for the valve to drop before carefully removing the lid.
Combine and whisk cornstarch and water until smooth. Pour over the beef and bring to a boil until the sauce thickens, then stir in the green onions.
Enjoy your tender, flavorful beef with plenty of sauce!
3.
How to Convert a Recipe Into a Pressure Cooker Recipe
Love healthy beans but hate the tough cooking job? Longing for the warmth of soup and dreaming of juicy steak goodness? The big problem is, we almost always lack the time to prep up these awesome dishes. Now you can do it without turning on the stove nor warming up the oven. Just snap your fingers, and viola! The vegetarian, meat-lover, or dessert weakling will triumph with the pressure cooker's magic.
Ready to embrace the new and convert your favorite recipe into pressure-cooker ready? Here's how.
1. Pick A Well-Suited Recipe
Pressure cookers require liquid to attain pressure, so ideally it should have liquid. Soups, legume, grain, meat and most slow cooker recipes are typical recipes that can easily adapt.
If you have stubborn and fatty meats, they can be tenderised into succulent dishes. Lean meat like pork loin will only dry out under high pressure.
Braises and soups are perfect. Cooking time for soup can be significantly shortened, yet flavors compare to that which have simmered for hours.
Dried beans can be cooked in a breeze while vegetables become incredibly delicious such that it pleases the pickiest of kids!
2. Determine Cook Time
In anything you pressure cook, leave enough room for steam to build up. High pressure is set as default, but medium or low pressure may be used for delicate ingredients like custards and seafood to lessen the chance of overcooking. Cook time may be a bit longer, but still shorter than traditional stovetop simmering or using the oven.
Reduce meat recipes meant for cooking in the oven or stove to a third, while cook time for pasta is generally reduced to half. Beans usually take only a quarter of the total length of the process. Don't be surprised if a 6-hour cook time drops to just around 10 minutes!
3. Gauge the Amount of Liquid to Use
Generally, you should add 1 cup of liquid. Very little liquid is lost during pressure cooking, so you may need to pour even less with foods that already have high water content. The amount of water for regular recipes for soups and braises should be greatly reduced so you don't water down the flavor.
4. Deciding Between A Natural or Quick Release
A natural release is beneficial for meat, but pasta and vegetables that are likely to get overcooked would need a quick release. A natural release implies that once the machine beeps and cook time is over, you let it sit for 10 to 20 more minutes to perfection. By doing so, no steam spurts out upon turning the valve from sealing to venting.
5. General Pressure Cooker Converting Guidelines
Here are 5 tips to help you use multicooker like a pro:
Don't roll meat into flour before browning. Simply heat some oil and your pressure cooker will do a great job.
Cornstarch and flour should be added towards the end to achieve the ideal sauce consistency.
Rice and pasta should be cooked separately to avoid starchiness, then added to the pot right before serving.
Dairy products, milk and cheeses should be added after pressure cooking to prevent curdling.
Keep a notebook for future reference so you can adapt and tweak the recipe accordingly to your taste.