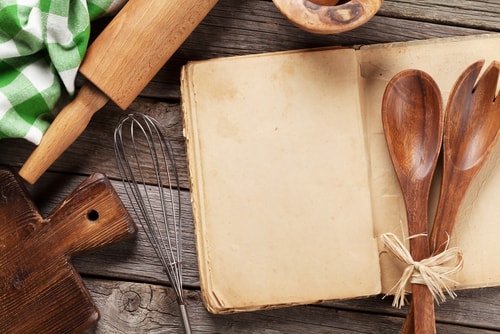 Let's Get Started!
Ready to turn that tasty thought into a recipe? Here's how to develop and write one.
Do Your Research
If you want to come up with your own recipe, you've got to know the basics first. Standard measurements are used across cooking industries, so get the gist of proportions and common methodologies. Existing recipes serve as guidance. Based on the norms, formulate the ingredients and cooking procedures you think will work.
Always Take Notes
Some people prefer to start cooking, pouring in intuitive quantities of ingredients and letting the recipe take shape as they go. However, not many of us have a massive inventory in our kitchen, and it's a lot easier to tweak a pre-written recipe. Either way, always have a pen and paper within reach. You wouldn't want to end up with a perfect dish only to forget exactly what you did! Taking photos to go with notes make your recipe more interesting while giving you quick reference, say, if you've cooked those onions until golden or deep brown.
Unleash your Creativity
Among the countless recipes you'll come across, the distinction lies in how you make your recipe different:
Use fresh rather than ground spices and substitute other kinds of sugar.
If you don't fancy anchovies, replace with salt and grated garlic to make up for its saltier, richer taste.
Remember, each component of a recipe is crucial to its taste, so make sure to compensate for something you take out.

Reading about food isn't enough. Head out and seek inspiration from renowned bakeries and restaurants. New ingredients promote thinking outside the box and veering from your comfort zone. Eat to experience and make meals count, savoring flavors, textures and consistencies that'll push your creativity! Think about the presentation too. The artistic in nature can sketch it out on a piece of paper to have a crisp goal.
Get Cooking!
Like any investment, perfecting your recipe takes time. Just cook and let the fun begin! Make adjustments along the way, such as noting when the batter is too wet or one ingredient overwhelms the rest. Stay organized and list ingredients in the order that they're used. Make each step clear such that anyone, especially a person who's never cooked, can easily comprehend. Think about the time when your hands are covered in flour in the middle of following a recipe. Don't you just want to know what to do next? When you're ready, enlist your non-chef friends for recipe testing and be open to feedback.
Fail, Only to Succeed!
Last but not least, be comfortable with failure. Without making mistakes, you won't learn what's too much and how to tell a dish is perfect. Whether old family recipe, online find, or your original creation, any culinary experiment has a greater chance of success with the modern innovation of a multi cooker.

Redmond multi cookers come with a cookbook with foolproof recipes to follow and tips from professional chefs. You learn the best methods to cook different foods, how long before ingredients are undercooked or overcooked, and which ingredients go well together. Get your new kitchen partner at our website an easier path to developing and writing your recipe!