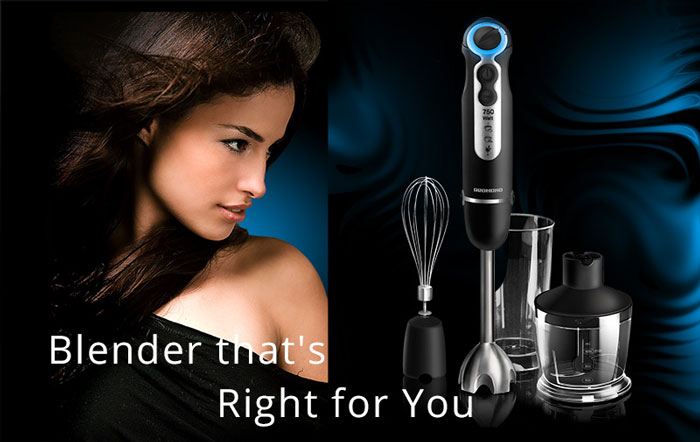 Blenders have come a long way since its piña colada beginnings. What's originally developed for making milk shakes and malts at soda fountains has turned into a multi-functional tool used to chop, grind, mix, whisk, emulsify, and puree various types of food.
Innovation is constant along with technology's advancements. The first blender and mounted mixers were taken over by a smaller model that meets consumer demand for practicality, style, and versatility. The invention of the newer hand blender packed the original stationary model in a more compact, portable, quiet, and simpler device. So that's where the choice lies nowadays.
Hand Blender or Countertop Mixer?
Standard blenders typically use a 1-2L container that's usually made of plastic, the heavier glass or stainless steel. Most countertop blenders offer more choices for speed controls, anywhere from 3-16. Low-powered blenders require adding some liquid to properly operate, while high-powered models are capable of independently milling grains or crushing ice.
The handheld type, known as the stick, wand, or immersion blender is much like a mini countertop mixer. It is built with a single rotating blade that's connected to a long, stick-like shaft made of plastic or stainless steel. As its name suggests, the mixing head is meant to be immersed in a container to create a homogeneous mixture.
It's convenient size fits perfectly into bowls, stock pots, and jars. Thus, it eliminates the need to transfer ingredients in a mixing bowl, only to transfer the contents again to another container. Unlike bulkier food processors and mixers, hand blenders are straightforward to use and easy to store. Great features make the immersion blender one of today's preferred tools for both homes and commercial kitchens alike.
Things to Consider In Buying a Hand Blender
Hand Blenders arrive in many different models. The best blender depends on the right blender that'll suit your needs best. Make sure to check the following:
Power. Choose a blender with higher wattage for more power to crush ice, make smoothies, or blend frozen yoghurt. Anything less than 300W simply can't do the job.
Intuitive Controls. Immersion blenders have soft-touch buttons that are easy to push and hold. Some have a safety feature where buttons must be pressed down during operation.
Speed Settings. Basic low/high speed settings suffice most blender uses, but advanced models with more controls offer precision and flexibility.
Good Grip. Your hands should remain comfortable during operation so you won't get tired so soon. Consider the weight and buttons should be within easy reach for seamless blending.
Attachments. Some hand blenders come with specialist accessories meant to do a particular task. Dishwasher-safe attachments will be a real convenience with effortless cleanup.
Material. The blending shaft tends to get the dirtiest. If you'll be using your blender a lot, choose metal which is less likely to stain than plastic.
Primarily designed to meet the modern lifestyle, REDMOND sees to it that your expectations of a good blender will be met. Take your pick the best hand blenders at our site for a multi-functional, ergonomically designed, remarkably powerful tool with smooth controls that will make a great addition to any kitchen.