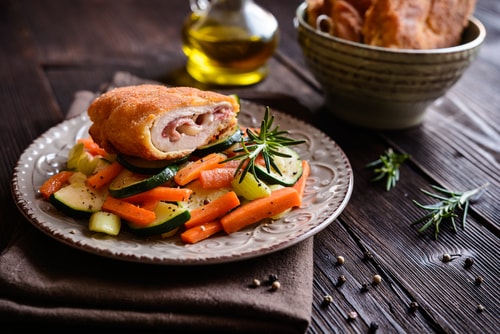 Steaming is in fact one of the healthiest cooking techniques. Vitamin and mineral content is diminished in boiled or canned greens, while fat penetrates food during frying and tends to dehydrate vegetables. Nutrients remain intact when you opt to steam, bringing out the color and enhancing their flavor. You've got to believe that vegetables cooked this way often taste wonderful as they are!
We've compiled the best steamed vegetables recipe to make in your multicooker, plus cooking tips for a very satisfying and delicious meal.
Vegetable Preparation Tips
Water is commonly used, but that shouldn't limit your options for steaming food. Use miso or vegetable broth, vegetable dashi, even your favorite tea to impart its distinct scent and flavor to your dish. You can simply add thyme or rosemary sprig, a few tablespoons of soy sauce, fish sauce, or lemon juice into the water.
Prior to steaming, splash a bit of olive oil then add salt and freshly ground black pepper to your veggies.
Toss asian vegetables like bok choy or gai lan in toasted sesame oil, then sprinkle some salt and white pepper over it. Play off the natural sweetness of sweet potatoes or carrots with red wine or balsamic vinegar.
Cut your veggies into uniform pieces such that they cook at about the same rate. Note that the more tender ones like broccoli cook faster than the denser types such as carrots. When mixing vegetables, toss the longer-cooking ones first into your steamer followed by the quicker-cooking varieties after a few minutes.
4 Must-Try Multicooker Recipes
Prepare a healthy meal using any variety of vegetables, whether in season or not, fresh or frozen.
Steamed Vegetables
Chop up potatoes and bell peppers, cored and seeded, into cubes. Toss the chopped veggies into the steamer basket. Add string beans, frozen broccoli, salt and spices. Press Start and select the STEAM program under product type "Vegetables" to cook your food in 15 minutes.
Ginger and Garlic Steamed Veggies
Cut a large Cauliflower head into bite-sized florets. Chop red bell pepper, sugar snap peas, and green onions. Start steaming the cauliflower until tender then add the rest of the vegetables. Mix in Chinese 5 spice, chili pepper flakes, salt, pepper, oils and vinegars, minced garlic and ginger into a vinaigrette. Drizzle over vegetables and garnish with fresh cilantro.
Steamed Asparagus
Prepare 1 pound asparagus, woody parts chopped off the stalks, and 1 tbsp onion. Drizzle with some oil, salt and pepper. For multicookers with pressure cooker functionality, your asparagus will be done in as fast as 2 minutes! There'd be no worry of ending up with under-cooked claylike taste or mushy over-cooked veggies. Asparagus tastes great on its own and pairs perfectly with almost any dish.
Garden Vegetables
Create a colorful mix of carrots, summer squash, zucchini, red and yellow bell peppers and steam away!
Here's how long each vegetable typically takes to steam:
Spinach, Arugula and Peas - 3 minutes.
Asparagus and Green Beans - 4-6 minutes.
Brussels Sprouts and Sugar Snap Peas - 5-6 minutes.
Broccoli and Cauliflower Florets - 5-7 minutes.
Carrots, Potatoes, Squash, Turnips - 8-20 minutes.
Corn on the Cob - 8-10 minutes.
Kale and Collards - 10 minutes.
Vegetable Post-Steaming Tips
The trick to avoiding over steaming is to set the timer. Once cooked, remove the steamer basket from your multicooker or release the steam when using the pressure cook function. Open the lid and mix your vegetables.
Fresh herbs add a load of flavor without messing with the calories. Chop up dill, parsley, or thyme leaves then sprinkle over the newly steamed vegetables. Throw in toasted nuts, sesame seeds, avocado slices, chopped scallions or cooked chickpeas. Top with the dressing of your choice, like miso-ginger, dijon mustard garlic, or tahini sauce.
Make a pangritata from breadcrumbs and whichever fresh herbs you have in your kitchen. Brown in olive oil together with crushed garlic, onions, and black pepper. Just a spoonful over steamed vegetables adds texture and brings out amazing tastes!