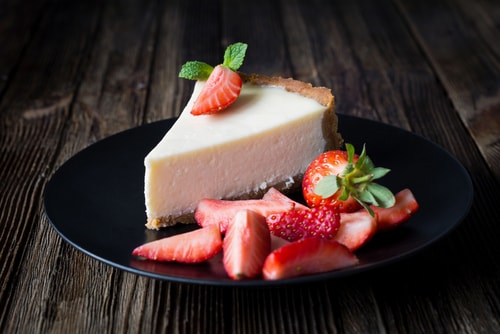 Creme Brulee
A classy dessert your family and guests will fancy. The rich, sweet and creamy custard doesn't even give a hint that it was pressure cooked!
Ingredients:
1 1/2 cups water;
8 egg yolks;
1/3 cup granulated sugar;
pinch of salt;
2 cups heavy cream;
1 1/2 tsp vanilla;
6 tbsp superfine sugar.
Directions:
In a large bowl, whisk the egg yolks, granulated sugar and salt then stir in the cream and vanilla.
Pour the mixture into custard cups and cover each one with foil.
Place the trivet at the bottom of the pot, then place the baking cups on the top layer for a water bath.
Lock the lid in place and set cooking time to 6 minutes. Once done, do a natural release for 10 minutes then eliminate any remaining pressure via a quick release.
Allow cups to cool in a wire rack. Sprinkle super fine sugar then torch away to create a beautiful caramelized layer over your dessert.
Baked Apples
Hour-long oven baked kind of apples done in 10 minutes! Sooo easy. Make sure to pick fresh apples still attached to green, strong and flexible stems to produce the best pressure cooker dessert.
Ingredients:
6 fresh apples, cored;
1 cup red wine;
1/4 cup raisins;
1 tsp cinnamon powder;
1/2 cup raw demerara sugar.
Directions:
Place apples onto the base of your pressure cooker pot.
Pour in the wine and mix in the rest of the ingredients.
Bake for 10 minutes under high pressure, then release pressure naturally for 10 minutes.
Scoop the apples out and serve in little bowls with lots of cooking liquid.
Oreo Cheesecake
Perfectly pressure-cooked cheesecake will give you more reason to look forward to lunch or dinner. Bake this special dessert for your family celebration in half the time it takes using a conventional oven.
Ingredients:
Crust:

12 Oreo cookies, crumbled;
2 tbsp melted salted butter.

Cheesecake:

16 oz room temperature cream cheese;
1/2 cup granulated sugar;
2 large eggs;
1 tbsp all-purpose flour;
1/4 cup heavy cream;
2 tsp pure vanilla extract;
8 Oreo cookies, coarsely chopped.

Topping:

1 cup whipped cream;
8 Oreo cookies, coarsely chopped;
chocolate sauce.
Directions:
Wrap the bottom of the springform pan in foil then coat the inside with non-stick cooking spray.
Stir in topping ingredients in a bowl and press onto the bottom of baking pan. Freeze for 10-15 minutes.
Beat cream cheese until smooth using an electric mixer. Add the sugar and eggs, incorporating them one at a time. Stir in the rest of the middle ingredients then fold in the chopped cookies.
Pour 1 1/2 cups water into the pot to prepare the water bath. Cover the pan with foil then place over the trivet at the bottom of the pressure cooker.
Lock the lid in place and ensure the vent is set to sealing, then bake under high pressure for 40 minutes. Do a natural release for 10 minutes followed by a quick release.
Refrigerate your cheesecake for at least 8 hours. Top with whipped cream, cookies, and drizzle with chocolate sauce as you wish right before serving!