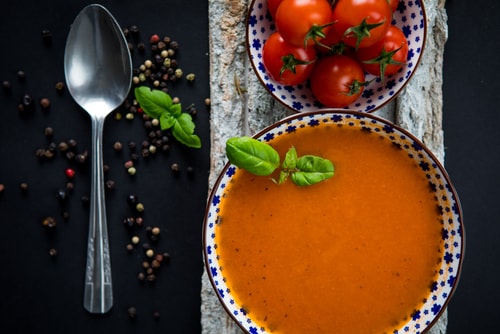 1. Tomato Soup
Ginger, onion and a whole lot of tomatoes placed in your multi cooker will produce heart healthy soup on its own - in merely 45 minutes! Cut back cooking time in half by pouring double the water and adding some chili paste. Press SOUP then select FAST on your multi cooker. Mix in a blender to savor every sip of nutrient-filled, anti-oxidant rich soup with a smooth texture on a chilly night.
2. Spinach Cream Soup
Impress your family and guests with this 30-minute spinach soup. Place diced tomatoes, onions, butter and water together with the fresh or frozen leaves and press SOUP. Everyone will get all the health benefits of a flavoursome bright-green soup blended with cream and served with croutons on top!
3. Meatball Soup
An hour is all it takes for a hearty soup with golden broth of potatoes, onions, butter, and the freshest herbs. Tomato sauce, cheese, and carrots will make your day colorful. Use frozen meatballs you have on hand or craft your very own homemade recipe from pork mix, veal or lamb.
4. Spanish Garlic Soup
The simplest soups bring out the most wonderful tastes. Mainstay kitchen ingredients like garlic, crumbs of bread, eggs and broth will produce a fragrant, rustic Spanish soup to warm you up and fill your senses!
5. Minestrone
For a taste of home-stewed goodness:
Dice all your favorite vegetables and toss into your multi cooker pot.
Start off by adding olive oil and pressing FRY, then set to 20 minutes.
Pour water and stir in the spices, then select SOUP.
In 30 minutes, you'll be serving your family genuine minestrone soup topped with cheese. Made from any vegetable in season, this delightfully easy soup recipe will save the day.
6. Cream of White Bean
White beans give this Italian-style soup its sublime creamy texture. One can of protein-packed beans combined with chopped onions and potatoes, grated carrots, butter and water in a mutli-cooker pot works like magic!
7. Light Vegetable Soup
Vegetables dumped into a multi-cooker along with some broth makes for a light and cleansing meal. A healthy bowl of juicy vegetables will save you from pangs of guilt from heavily laden meats and dishes. Cook twice the ingredients and freeze portions to pull out and enjoy for several lunches and easy dinners.
8. Cream of Salmon Soup
Salmon is hailed as one of the most nutrient-dense of fishes and all foods. It has a lovely taste too! Cubed fish and vegetables will cook perfectly in about 40 minutes in one easy multi cooking session. Mixed with cream and blended right before serving, salmon soup may be the best fish soup you'll ever taste!