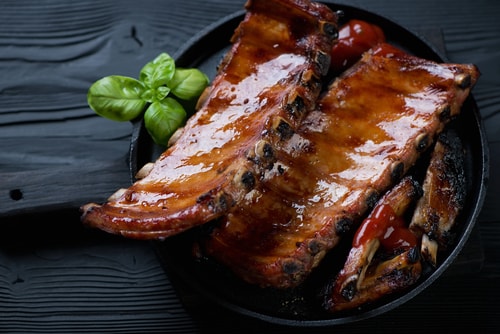 1. Garlicky Chicken Stew
A large batch of homemade chicken stew won't be a big task to tackle. This is not ordinary dish, but a meal packed with nutrition sourced from lentils, long-grain brown rice, and potatoes both russet and sweet. In merely 20 minutes, including prep and cook time, you'll have piping hot ready-to-eat stew on the table.
2. Amazing Beef Brisket
Take a tough brisket down in 45 minutes! Simply season with salt, pepper, worcestershire sauce, celery, some onions and garlic powder, then top with thick gravy and chopped carrots. Beef will delightfully fall apart tender, melt in your mouth, and make your home smell so wonderful. Your search for the perfect romantic dish or family dinner to impress ends here. A warning though, your dogs are likely to drool upon wondering what heavenly food is being cooked in your kitchen.
3. Pressure Cooker Pork
You can't miss out on melt-in-your-mouth pork ribs. Sprinkle fresh meat with paprika, salt and pepper. Brown ribs in oil on all sides then pressure cook to serve right in time for a special dinner. For an even easier recipe, barbecued pork can be made quickly to go with a sandwich or eaten perfectly alone.
4. Mashed Turnips
Don't be reluctant to try unfamiliar vegetables. It's one of the most exciting things about your pressure cooker! Mashed turnips can actually be the best side dish! Toss the white root vegetables in your pressure cooker to bring out the veggie flavor, together with onions, beef or chicken stock. Use an immersion blender or handheld mixer to puree the pressure-cooked turnip then stir in sour cream.
5. Homemade Spaghetti Sauce
Browned pork sausage, drained of fat and pressure-cooked together with all other ingredients. Mix in mushrooms, celery, onion, garlic, sugar, oregano, parsley, crushed red pepper, stewed tomatoes, and tomato paste. Nothing can be easier than this all-natural spaghetti sauce you can enjoy with the family during lunch or dinner. Use Italian sausage as you wish for a more robust flavor.
6. Any-Day-of-the-Week Beans
No need to stay away from beans that are hard to break down, whether sprouted or soaked. Long-cooking beans are turned to quick and easy, perfectly soft dishes from scratch with the use of a pressure cooker. To come up with a steaming hot bowl of chili, combine:
kidney beans;
brown sugar;
diced tomatoes;
tomato paste;
cocoa and chili powder;
red pepper flakes;
green jalapeno pepper.
You might want to try dried black beans spruced up with the great flavor of Spanish chorizo.
7. Creme Brulee
Baking custard is an art which requires time and precision. Would you believe that with a pressure cooker, you can whip up a creme brulee in about eight minutes? It's all a matter of pouring milk, cream, and vanilla bean mixed with whisked egg yolks in teacups or ramekins. Refrigerate for a few hours then sprinkle with caramelized sugar for a grab-and-go dessert.