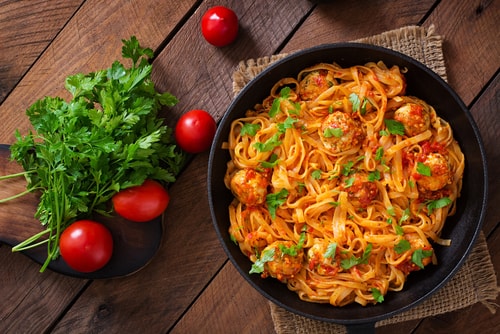 Beef Fettuccine
Cooking pasta is as easy as 1-2-3 in a multi cooker. The first step is to select PASTA, cook and drain the noodles when done. Next, FRY the cubed bite-size beef together with:
onions;
grated carrots;
tomatoes;
salt and spices.
Lastly, toss the pasta into the pot and stir in the beef broth. Now it's all up to you to twirl your fork and enjoy a deliciously meaty meal!
Grilled Chicken
Oranges and lemons sliced into wedges, then stuffed into a young chicken will remind you of Thanksgiving. Rub the outer poultry skin with spices and add herbs like thyme and garlic for a lasting aroma and flavor. Grill using your multi cooker for juicy and tender chicken oozing with fun citrus flavors for the family to share!
Baked Pork
Meat is marinated for 2 hours, spread with mustard and baked at a 200 C temperature on the upper gridiron. Once the 20-minute initial cook time is complete, pork is baked for another 40 minutes on the lower gridiron, then let sit for 20 minutes. The result? A perfectly cooked, moist pork fillet that's great with salad on the side.
For a quicker alternative, pork can simply be dry-rubbed with salt and spices. Take off the multi cooker's kneading blade for bread-making and instead place the meat inside. Cover the bowl with foil then seal the lid, then set to BAKE effortlessly for an hour.
Assorted Meats
Pork, beef, smoked sausage slow-cooked with fresh vegetables is a winning combination! The dish is simmered for 2 hours to bring out the best flavors in the different meat fillets into one amazingly rich stew. The tomato puree base and balsamic vinegar makes it a filling and heart-healthy main course.
Seafood Recipes
Try out these two multi cooker rice variations for an absolutely simple one-dish meal. Chicken calamari is an easy recipe where you FRY strips of calamari and chicken breast for just about 5 minutes. Next, mix in some cream and rice then stew for 10 minutes, and you're done!
Peeled shrimps are also great with chicken fillets. Put cubed chicken breasts, onion, peas, cored and seeded bell peppers into the multi cooker together with round-grain rice. Set your appliance to PILAF for 45 minutes, add the prawns, then serve your guests a great seafood paella!
Assorted Fish
This tilapia and salmon medley can't get any cheesier and creamier! Cut up fish into cubes, layer into the bowl, mix with cream, salt and spices then cover with hard cheese. Simply set your multi cooker to do its job - and that's to MULTI COOK. Your main course will be ready to serve in a speedy 20 minutes. You can also use cod fish and trout fillet, which are great when mixed with garlic and cream then covered with cheese.