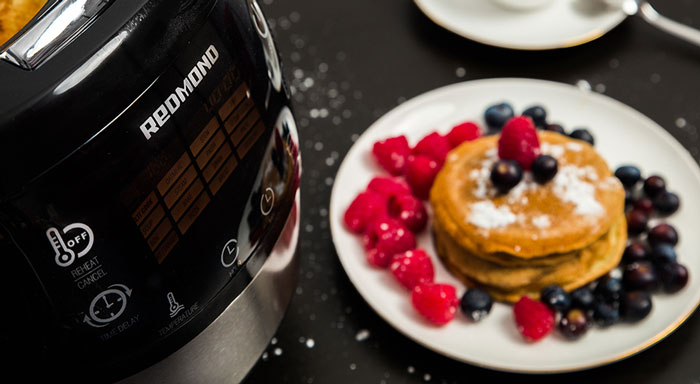 Dessert is a true love of most people. The sweet course can make a huge difference on the way a meal pleasurably ends. Eating dessert not only satisfies cravings, but opens up the opportunity to experience different flavors and textures. Here are 5 tasty and simple dessert recipes that are quick to make, requiring just a handful of ingredients and a few easy steps to come up with an awesome treat!
1. Chocolate Cake With Ricotta
Ingredients:
4 slices chocolate cake;
3/4 cup ricotta room temperature;
1/4 cup honey.
Start off by baking an original chocolate cake using your multicooker. The classic recipe calls for grated dark chocolate, softened butter, blended eggs and sugar, wheat flour and baking powder, altogether poured into the pot and baked for an hour. Once done, take four slices of your perfectly baked cake and dress up with a dollop of fresh ricotta cheese, then drizzle with some honey for a rich and decadent dessert.
2. Mixed-Berry Shake
Ingredients:
1 quart vanilla ice cream;
6 ounces frozen berries (unsweetened);
2 cups whole milk.
Give ice cream shake an extra chill with your choice of frozen strawberries, blackberries, or blueberries. Combine half of the ice cream, berries, and milk in a blender then purée until smooth. Stop and stir occasionally during the process, then repeat with the rest of the ingredients. Pour the bright berry mixture into glasses and serve your refreshing dessert.
3. Lemon Squares
Ingredients for the base:
200 g plain flour;
75 g icing sugar;
175 g butter, softened.
For the filling:
3 eggs;
300 g caster sugar;
3 tbsps plain flour;
4 tbsps lemon juice;
5 tbsps icing sugar.
Combine all the base ingredients for the lemon squares, then pat the dough into the baking tin. Bake for about 20 minutes until slightly golden. Whisk all the filling ingredients in a bowl, then pour the mixture over the hot base. Bake for another 20 to 25 minutes, or until it turns golden brown. Allow to cool on a wire rack then dust with icing sugar on top. Cut into squares and serve your incredibly delicious dessert with delightfully gooey lemon filling!
4. Banana and Raisin Loaf
Ingredients:
110 g butter;
110 g sugar;
2 eggs (beaten);
4 bananas (mashed, and one chopped);
225 g self-rising flour;
1/2 tsp bicarbonate of soda;
140 g raisins;
1 tsp cinnamon.
For a super tasty dessert that's very simple to make, try the banana and raisin loaf. Even people who've failed with other cakes and bread will find it their go-to-recipe that can easily become the family favorite. Just cream together the butter and sugar. Add the eggs, then stir in the bananas. Sift and fold in the flour, cinnamon, bicarbonate of soda, and raisins. Pour mixture in a greased and lined loaf tin and bake for 45 minutes.
5. Grilled Peach Sundae
Ingredients:
6 ripe peaches (cut in half, pits removed);
3 tsps sugar;
1 tsp ground ginger;
1 lime;
1/2 cup honey;
vanilla ice cream.
Dust the cut side of each peach half with some sugar and ground ginger. Grill the fruits sugar side down for about 6 to 7 minutes or until golden. Grate the zest from the lime, then squeeze its juice into a bowl and combine with honey. Serve the warm and juicy peaches with a scoop of vanilla ice cream drizzled with the lime-honey sauce.