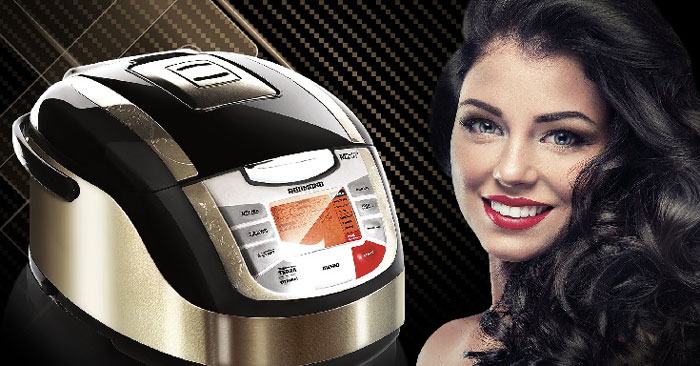 Multi cookers are kitchen wonders that yield amazing meals, from appetizers to main courses, to snacks and decadent desserts. There's always a new recipe to try. Why not make something of tradition this time around? At the touch of a button, you can come up with the symbolic, lovingly handmade, all-time favorite ultimate in comfort food: The Perfect Pie. Nothing can be more gratifying than digging into freshly baked crust and indulging in a pie's scrumptious center. Bake the family recipe and bring some on your next picnic, housewarming party, lunch or dinner gathering. Let everyone enjoy a slice of these three pie favorites!
Apple Pie
The most popular of pie recipes, this old fashioned apple-filled pastry smells as heavenly delicious as it tastes, and is delightfully easy to make!
Ingredients
Bottom Mixture:
8 apples, peeled and sliced;
1 1/4 tsp ground cinnamon;
1/4 tsp nutmeg;
1/4 tsp allspice.
Middle mixture:
3/4 cup milk;
2 tbsp softened butter;
3/4 cup sugar (substitute: 3 tbsp raw honey + 1 tbsp lemon juice);
2 eggs;
1 tsp vanilla;
1/2 cup Bisquick.
Top mixture:
1 cup biscuit mix or oatmeal;
1/3 cup brown sugar;
3 tbsps cold butter.
Perfect Pie Instructions:
Combine all ingredients for each layer accordingly in separate bowls. Mix well.
Place the bottom mixture into a lightly greased multi cooker pot, then pour the middle mixture over, then sprinkle the top mixture last.
Cover and slow-cook on low for 7 hours.
Serve with your favorite dessert topping, whipped cream, ice cream, or a piece of cheese.
Pumpkin Pie
Save precious time from smashing pumpkins into a tin, pressing and pinching dough, and hovering over the oven. Just toss everything in your multi cooker to make the easiest of pies!
Ingredients:
15 oz canned pumpkin puree;
9 oz evaporated milk;
3 oz spiced rum;
2/3 cup biscuit mix;
3/4 cup brown sugar;
2 eggs, lightly beaten;
2 tsps pumpkin pie spice;
3 tbsps butter;
Whipped cream.
Perfect Pie Instructions:
In a large mixing bowl, combine pumpkin puree, milk, rum, brown sugar, eggs, pumpkin pie spice, and 1/3 of the biscuit mix.
Pour mixture into the multi cooker pot. Place pats of butter and sprinkle the rest of the biscuit mix.
Slow cook on low for 6-7 hours until the mixture thickens and the crust turns golden.
Serve warm with whipped cream on top!
Pecan Pie
Beautifully golden pecan pie with super-sweet gooey filling. Words cannot say how good this pie is on the tastebuds. Perfect doesn't even begin to describe it!
Ingredients
DIY Crust:
1 stick butter, cubed;
1 1/2 cups flour;
1/2 cup dark brown sugar;
1 tsp salt.
Pie ingredients:
1 1/2 cup pecans, chopped or whole or a combination;
3 eggs;
1/3 cup melted butter;
2/3 cup dark corn syrup;
1 cup sugar;
1/8 tsp salt;
1 tsp vanilla extract;
Vanilla ice cream for serving.
Perfect Pie Instructions:
For the crust, you can simply use pre-made refrigerated pie crust or make your own by pulsing the ingredients in a food processor until well incorporated.
Spray your multi cooker pot with cooking spray then mold the crust to fit inside it.
In a bowl, stir all pie ingredients together first, then add half of the pecans. Mix well.
Pour the filling over the crust. Arrange remaining pecans on top for an attractive presentation.
Cover and slow-cook on high for 2 1/2 - 3 hours.
Serve your wonderfully nutty, freshly baked pecan pie with vanilla ice cream.