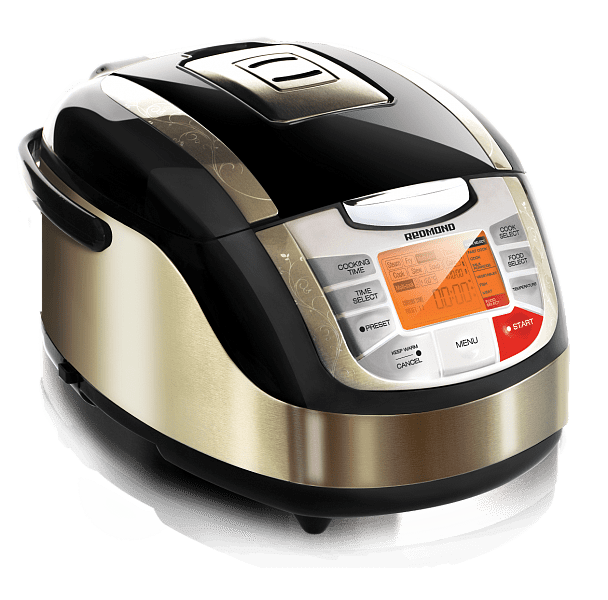 Here are 10 solid reasons to back you up in the decision to buy the newest kitchen phenom.
1. Big Savings On A Multi-Functional Appliance
Starting with the most obvious, REDMOND puts a plethora of useful features at your disposal. Multi-functionality gives you the option to:
boil;
bake;
fry;
simmer;
sear;
steam;
stew;
slow cook;
pressure cook.
You can cook rice, make soup, homemade yoghurt, desserts and drinks. One kitchen gadget can replace most small appliances while staying within a reasonable cost, with various models to suit your cooking ventures and budget. The multi cooker can even perform functions of the conventional oven and produce dishes with a taste of home!
2. Get Organized In The Kitchen
Less is more. Declutter your cupboards down to the essentials. You can do away with bulky cooking equipment that typically line your countertops. Compact multicookers clear surfaces for you to comfortable do all the chopping, cutting and slicing. Most accessories fit right inside the unit. You've got everything you need within reach.
3. Cook Like A Pro
Professional chefs highly recommend multi-functional REDMOND appliances to cooks of all levels. The multi cooker can very well be the main home cooker for the busy parent or grandparent, and anyone who wants good food with minimum fuss. You'll receive an exclusive cookbook containing quick and easy recipes and tips for first-timers, as well as comprehensive notes for food enthusiasts.
4. Spice Things Up On Any Occasion
REDMOND innovations present maximum convenience towards making lives easier and so much more exciting! Guys can impress their woman with good food on a lovely date night at home. Gals can indulge in cocktails with their closest girlfriends. Students off to college can take the portable appliance with them. Mom can whip up a nourishing breakfast for kids, a quick lunch, and share a cozy dinner with her husband.
5. Improve Energy Efficiency When Cooking
The multicooker uses less resources compared to huge ovens and hobs. There's no need for gas or fuel. Heat is contained within the machine such that your kitchen area doesn't get uncomfortably hot. Energy-efficient cooking means lower energy bills, more savings for you, and a greener world!
6. Achieve Health and Fitness Goals
REDMOND aims to help you establish a long-term commitment to a healthy lifestyle. Multi-cooking lets you select the right cooking method to preserve the most nutrients in food. Meal variations make diets interesting and easy to follow through. The healthiest, best-tasting dishes that are easiest to make in a multicooker help you stay motivated to keep fit.
7. Create Your Own Recipe
Program settings and intervals pave the way to endless customizations. Cooking time and temperature parameters are retained in the unit's memory, making it easy to make adjustments along the way. Nurture your passion to cook. Explore new ingredients, turn your ideas into recipes and have fun in the kitchen!
8. Worry-Free Cooking and Easy Cleanup
Quality bowls contribute to worry-free cooking, where food cooks evenly without the risk of getting burnt. REDMOND pots often arrive in ceramic or non-stick coatings that are easy to clean. One-pot dinners save you from scrubbing splatters of oil and stubborn grease on frying pans, casseroles, walls and surfaces.
9. Safety and Peace of Mind
REDMOND provides homes a stylish kitchen addition built around the highest safety standards. Highly-adaptable programmes let you cook thousands of dishes using any method, and leave your multicooker unattended thereafter. No more micromanaging - simply set and forget! The timer, keep warm, and other intelligent functions will remember for you.
10. Spend Time On What Matters Most
Automated processes and built-in programmes are flexible enough to keep up with your routine. You can cook from frozen, skip bean soaking, whip up batches and freeze portions to simply reheat before serving, all to free up your packed schedule. Your source of inspiration, the reason you cook and strive to come up with the healthiest meals deserve your undivided attention. You'll have more time for loved ones with the unparalelled versatility of the REDMOND multicooker.