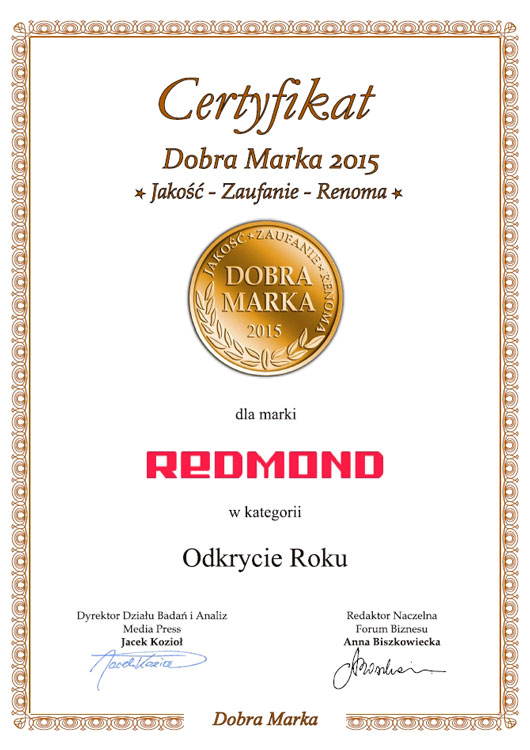 Redmond international brand became an award winner at the prestigious Dobra Marka program in Poland. The dynamic, developing company emerged victorious in the Opening of the Year nomination.
Annually, the jury of the Polish nation-wise award is selected by the best and most reliable brands in various business spheres on the Polish market. Authoritative portal Forum Bizesu I Biznes Trendy conducts, along with the Philosophy and Sociology Institute of the Polish Acedemy of Sciences, a complex analysis of companies' activities.
The competition's organizers research the status of the brands on the market and the quality of their products, services, and product sales. In addition, various surveys are conducted amongst customers and their opinions have a large affect on who they choose to be the victors.
Experts and consumers love the broad array of Redmond home appliance models presented in Poland: from kitchen appliances (multicookers, blenders, etc.) to home conveniences (irons, vacuum cleaners, etc.).
All of Redmond's high-tech home appliances stand out in their phenomenal performance and wealth of components. After making a purchase, a consumer can always ask any question he or she is interested in on the technology of the brand by calling the free call center. There is also a company service center in operation in Poland providing guaranteed service.
Redmond is renowned amongst Polish specialists and held in high esteem. It will continue its undying aspirations toward the improvement of its products, integrating new energy saving solutions and technological innovations, and also maintaining active communication with its users.
Redmond is today's technology for success!