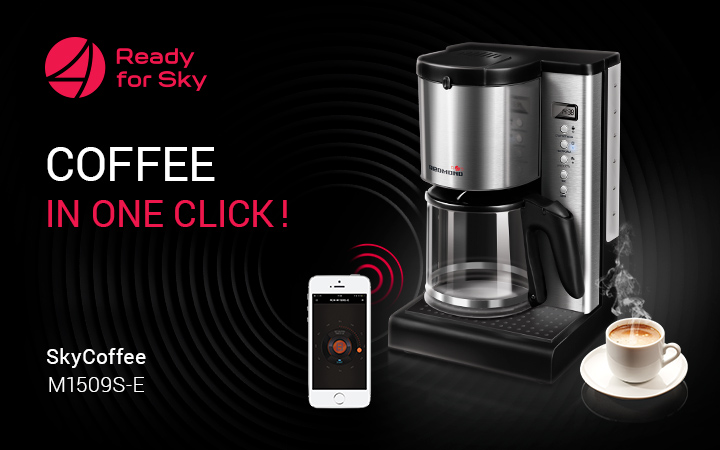 The distinctive feature of the smart coffee maker REDMOND SkyCoffee is the remote control Ready for Sky technology. Only one click on your smartphone and the M1509S-E coffee makerwill brew your favorite coffee, like a professional Barista. All you need is to install a free application Ready for Sky on your gadget. The application allows you to adjust the drink strength and to brew your coffee while you are still stretching in your bed or walking your pet*. You can also set the coffee maker timer (up to 24 hours), if you know when you would like to enjoy your coffee. SkyCoffee M1509S-E will prepare espresso according to your taste!
Are you worried that your little child will "play with buttons" on the coffee maker? Protect the curious baby from burning himself/herself by locking the SkyCoffee control panel from your smartphone.
The REDMOND coffee maker's pot holds 1500 ml, so that the coffee maker is able to brew 12-15 cups of espresso at the same time. This is the most suitable model for office workers or for welcoming hosts, who often invite friends for a cup of coffee. Turn on the brewing process from anywhere across the world* with your smartphone when watching movies, on the way home from work or while shopping. If you are a little late, the SkyCoffee will maintain the coffee temperature for half an hour. With REDMOND smart technology you will always have the time for a coffee break in your schedule.
For your convenience, the smart coffee maker has "Anti-drip" feature. You can remove the pot before coffee is brewed. The drink will not spill on the tray, and the coffee maker will not get damaged. SkyCoffee M1509S-E is your smart high-tech Barista for years to come!
Coffee in one click!
**When connected to R4S Gateway from your "at-home" Android smartphone/tablet.