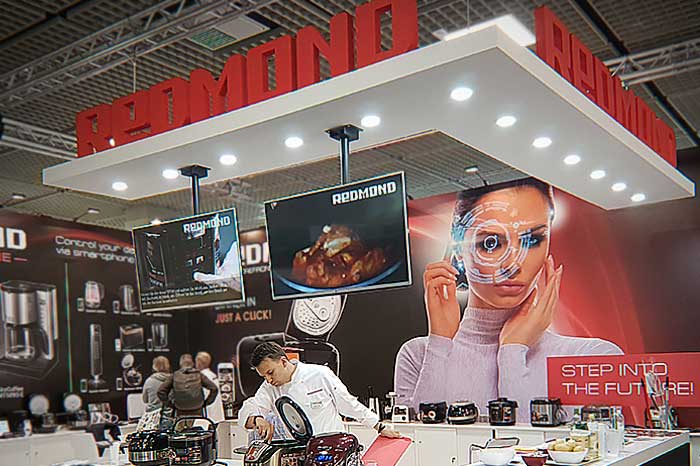 REDMOND took part in the consumer electronics and appliances exhibition IFA-2017 which took place from September 1 to 6. The brand demonstrated to its guests the smart appliances with the remote control feature and user settings: multicookers, multikitchens, electric kettles and other devices. Besides, visitors were offered to take part in tasting sessions.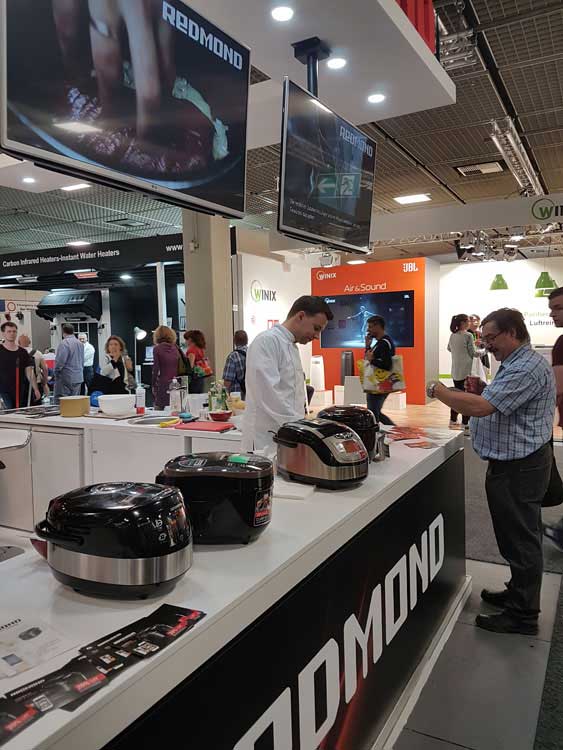 IFA is the annual international exhibition which has been held in Berlin since 1924. This event has continued relevance, indeed, it reveals the major trends in the field of household appliances and electronics. Several thousands of exhibitors annually participate in IFA and the number of its guests exceeds hundreds of thousands.
Smart home technologies have become one of the priorities of IFA over recent years. Therefore, REDMOND selected the smart appliances for kitchen and home as display exhibits, which can be controlled from a smartphone from anywhere across the world. Any user can tailor such device to his needs and daily schedule, making individual adjustments to the app for controlling Ready for Sky smart appliances.
The flagship model this year is the smart multicooker SkyCooker CBD100Swhich REDMOND introduced to the worldwide audience for the first time. This model features the patented Double Chef technology and remote control that works from anywhere across the world. The multicooker CBD100S has two bowls, to each of which the independent heating element is supplied. This construction doesn't have analogies in the world market and allows users to simultaneously cook two different dishes using any automatic programs.
REDMOND exhibited other smart appliance innovations such as the multikitchen SkyKitchen RMK-CB391S which combines functions of a multicooker and a stove thanks to the MasterFry® technology. Another presented innovation is the illuminated kettle SkyKettle G200S which can heat water to any temperature, change the backlight color and perform educational functions for children. Besides, the appliances which are already available for customers in some European retail chains were displayed at the exhibition as well.
Visitors were offered to taste dishes cooked by the REDMOND smart appliances and personally test the products opportunities. The guests were able to try fried potatoes with bacon, vegetable ragout and mushroom risotto, with apple cake and chocolate pie for dessert. Besides, exhibition guests were given the exclusive discount for purchasing the smart multicooker.