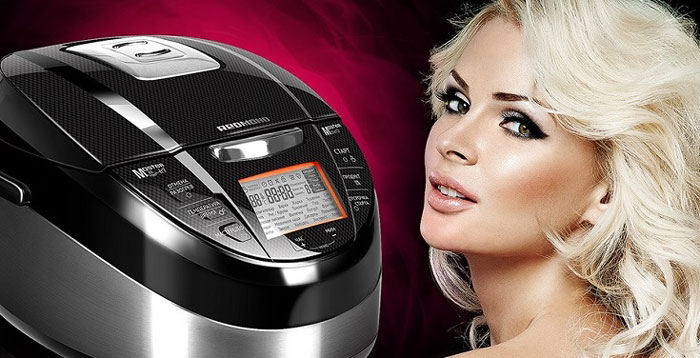 Cupcakes without icing? Not really. Baked in your multi cooker, muffins become heavenly light and fluffy, pleasantly sweet treats! It can be the perfect way to start your day as a healthy and nutritious breakfast. Wake up to these tasty homemade muffin recipes, then maybe grab one for an afternoon snack and save some for dinner.
1. Cheese, Vegetable and Egg Muffin
Gather energy with some extra protein and vegetables in your morning meal. Shred carrots, grate potatoes, dice orange peppers, add corn and peas to bulk up your veggie mix then spoon into each muffin cavity. Lightly whisk eggs and pour over the vegetable filling. Top with mozarella cheese for nicely browned top and irresistibly yummy flavour!
2. Cinnamon Roll Muffins
Made with whole wheat flour, ribboned in nutty streusel, then topped with yogurt glaze, the muffins are naturally sweetened rather than loaded with sugar. While yeasted cinnamon rolls typically take hours to bake, these portable muffins would be done in just 30 minutes! Impressively, they're also great leftover food that will last for a couple of days in the fridge.
3. Gluten-Free Quinoa Muffin
It all begins with the basic muffin batter made of oats, quinoa flakes, a bit of coconut sugar and baking powder. Blend in wet ingredients including applesauce, non-dairy milk and eggs, and you're done. What happens next is entirely up to you. Have fun tossing in blueberries, banana chunks, chocolate chips or carrots, and be fascinated with each muffin transformation!
4. Fruity Muffin Recipe
Just a touch of your multi cooker function button, and you can produce perfectly moist, fruit-filled muffins! Fold in fresh raspberries, blackberries or blueberries or jam preserves in your base batter, then bake until golden brown. Combine strawberries and bananas for a smoothie-flavoured treat. You also have the freedom to omit the berries and incorporate any other mix-in you like.
5. Spiced Pumpkin Muffins
Maple-sweetened pumpkin muffins spiced with nutmeg, cinnamon and ginger are perfect for serving with mulled apple cider. Not only does the healthy vegetable bestow gorgeous color to your breakfast bread, but adds unique flavour and packs your meal with vitamin A, potassium and fiber.
6. Whole-Wheat, Oatmeal and Raisin Muffin
A great alternative to your bowl of cereal and oatmeal for on-the-go breakfast or healthy lunch. These fiber-rich muffins are teaming with nutrients and antioxidants. Four whole grains- untoasted wheat germ, bran, flour and oats deliver a delightfully tender muffin. The flavourful twist and sour notes are derived from dried pitted dates, raisins and cranberries.
7. Bacon and Egg Breakfast In A Cup
Imagine everything on your plate - eggs, toast, bacon and veggies, all-in-one muffin bite! Partially cooked bacon is wrapped around a:
mixture of eggs;
bread;
sauteed mushrooms;
sprinkle of herbs.
As it bakes in your multi cooker, the crisp bacon cradles the moist middle and acquires the shape of a muffin to create a mouthwatering sight.
8. Double Chocolate Peanut Butter Muffin
Can't get enough of chocolate? Double dose by whisking dark cocoa powder in oat flour and folding in mini choco chips. Next, blend everything together with a peanut butter-vegetable mix comprised of carrot puree and sweet potato flesh. Enjoy each bite of your one-of-a-kind, totally healthy and indulging breakfast treat!