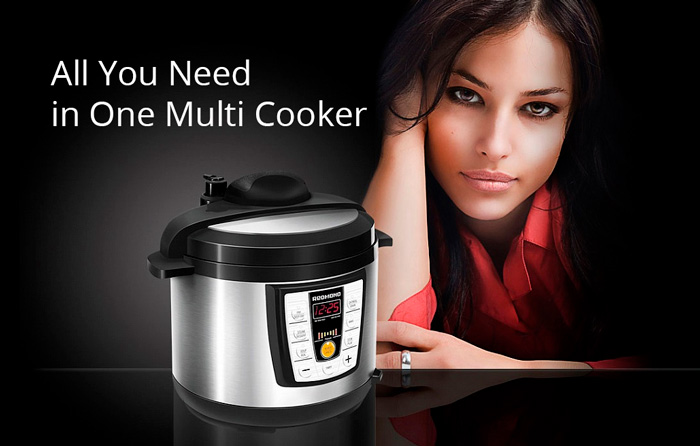 Many people haven't embraced today's latest innovation in what's called a multi cooker. If you're one of those who haven't explored this new kitchen appliance just yet, then you're missing out on so much use you can get out of it! Let's compare multi cooker to a more familiar appliance - slow cooker.
The slow cooker and multi cooker are somehow similar, but very different in various aspects from speed, functionality, programmable settings, to added accessories. Both are appliances ideal for cooking everyday dishes, holiday entertaining, tailgating, and more. The multi cooker doesn't stop there, and that's why it outranks the slow cooker and most kitchen appliance for giving so much more.
The Slow Cooker
Slow cookers are basically used for simmering. It maintains a relatively low temperature which allows for safe, unattended cooking for hours. Cooks are given an economical and easy to use appliance that makes the most out of budget-friendly ingredients to bring out incredible flavors.
Serve delicious family meals like your grandmother used to make, with minimum effort. No matter how many schedules you've got packed in a day, you'll always have time to to come up with healthy home-cooking that'll impress the entire family. Meats, roasts and stews typically cook anywhere from 6-10 hours, while side dishes, desserts and dips average to about 4 hours. It's simply set and forget.
The Multi Cooker
If you had to do away with the things in your kitchen and were left to pick only one appliance to keep, what's going to be your choice? Would it be your favorite pan, the griller to savor the mouthwatering aroma, the oven to enjoy baked goodness, or your very convenient microwave? Then there's the pressure cooker, deep fryer, steamer, slow cooker, bread maker, if you already have any of these devices (or collected all of them if you have a 1,000-sq.ft kitchen!). Otherwise, you may have realized that you need one more tool to use in your kitchen. There's no need to choose which new kitchen addition will suit your purpose. With a multi cooker, you can have everything. The slow cooker is just a fraction of the whole multi cooker and everything it has to offer!
All You Need in One Multi Cooker
You get a range of kitchen appliances in a single gadget. A multi cooker lets you:
Cook any way you like. Bake, boil, fry, saute, simmer, sear, steam, stew, make soup, cook rice, risotto, slow cook on low or high, reheat food, and keep warm.
Save on money and counter space. You only need one kitchen appliance- the master of all trades that serves as a long-term investment.
Prepare healthier meals. Vitamins and minerals are kept intact in a fully-automated process that utilizes less oil or fat.
Enjoy convenience unlike any other. The multi cooker will make your life easier and cooking a lot more fun!
For the ultimate multi cooker experience, make sure to get a REDMOND. Check out our offers for the highest quality multi functional products you can buy online at the most reasonable prices.