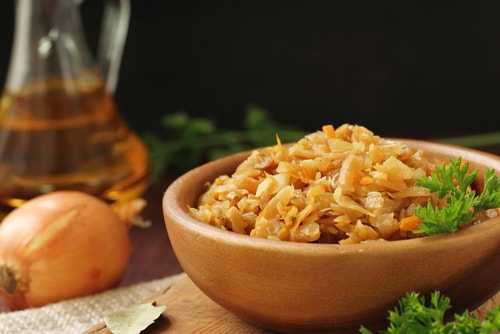 Modern home cooks have discovered the multi cooker for its lightning-quick kitchen prowess as pressure cooker, and the ability to infuse intense flavors in food as slow cooker:
Dried beans become soft, pre-soaked or not, in approximately 35 minutes.
Authentic risottos are made tender, and heavenly creamy, in only 20 minutes.
Beef and chicken with the juiciest and most savory taste fall off the bone.
Carrots become sweeter and all veggies turn out so wonderful that kids love them.
Multi cooker dishes are simply set-it-and-forget-it type of recipes perfect for beginners. Here are some of the best.
Sweet and Spicy Braised Cabbage
Oven braised cabbage style cooked in 5 minutes! A multi cooker not only gets it done at incredible speed, but retains more vitamins and minerals in a flavorful vegetable plate.
Simple ingredients:
1 tbsp sesame seed oil;
1 cabbage divided into 8 wedges;
3/4 cup grated carrot;
1 1/4 cup + 2 tsp water, divided;
1/4 cup apple cider vinegar;
1 tsp raw demerara sugar;
1/2 tsp cayenne powder;
1/2 tsp red pepper flakes;
2 tsp cornstarch.
Easy multi cooking instructions:
Press BROWN or SAUTE, add oil, then cook cabbage wedges on one side for 3 minutes.
Pour in 1 1/4 cup of water, vinegar, cayenne, hot pepper flakes and sugar.
Turn the cabbage, browned side facing up, then sprinkle carrots on top.
Pressure cook for 5 minutes. Once done, twist the valve on the lid to open position and remove the lid tilting away from you.
Make a slurry by mixing cornstarch and 2 tsp water, SAUTE. Pour over cabbage before serving.
Chicken and Pasta Soup
Surprisingly tender chicken and pasta that's healthier and tastier than a can of noodle soup. Set in the multi cooker to slowly simmer and you'll be rewarded with an excellent meal with little to no effort.
Simple ingredients:
6 boneless, skinless chicken thighs;
4 carrots, cut into 1-inch pieces;
4 stalks celery, cut into 1/2-inch pieces;
1 onion, halved;
2 garlic cloves, smashed;
2 bay leaves;
kosher salt and black pepper;
1/2 cup pasta;
1/4 cup fresh flat-leaf parsley, chopped.
Easy multi cooking instructions:
Place all ingredients into your multi cooker pot.
Cover and cook on high for 4-5 hours or on low for 7-8 hours.
Do this 20 minutes prior to serving:

Transfer chicken to a bowl, discarding the onions and bay leaves.
If on low, turn the multi cooker setting to high.
Add pasta to the pot. Cover and cook until tender for 15-18 minutes.
Shred the chicken. Stir into the soup and mix in the parsley.
Pot Roast and Potatoes
A classic recipe made faster and more delicious using the highly-efficient pressurized multi cooker function. Pot roast is one of the comfort foods that will remind you of special Sunday dinners when you were growing up.
Simple ingredients:
3 to 4-pound boneless beef chuck eye roast;
salt and pepper;
1 tbsp vegetable oil;
1 onion, finely chopped;
2 tbsp tomato paste;
1/2 oz dried porcini mushrooms, minced;
2 cups beef broth;
2 lbs Yukon gold potatoes.
Easy multi cooking instructions:
Pat dry and season beef with salt and pepper.
BROWN roast in oil on all sides in for 8-10 minutes. Transfer to a platter when done.
Add onions into the pot and soften for 3-5 minutes.
Add tomato paste and mushrooms, stirring constantly for 3 minutes.
Stir in broth and simmer for 3 minutes.
Put the browned roast back into the pot, top with tomatoes, then close the lid.
Set to High Pressure for 90 minutes. Do a natural release for 15 minutes to follow up with a quick release.
To make gravy, strain juices and skim excess fat. SAUTE juices until thickened by adding 1/4 cup of flour mixed with 1/4 cup of cold water.