When it comes to using a multi cooker, imagination is your only limit! Designed to perform an impressive array of functions all on its own, you can explore endless possibilities for culinary experiments. Anyone can extract perfect dishes out of a great innovation, provided the appliance you use is of the best quality. Discover the features that make a REDMOND worth the investment in many ways, and our top picks!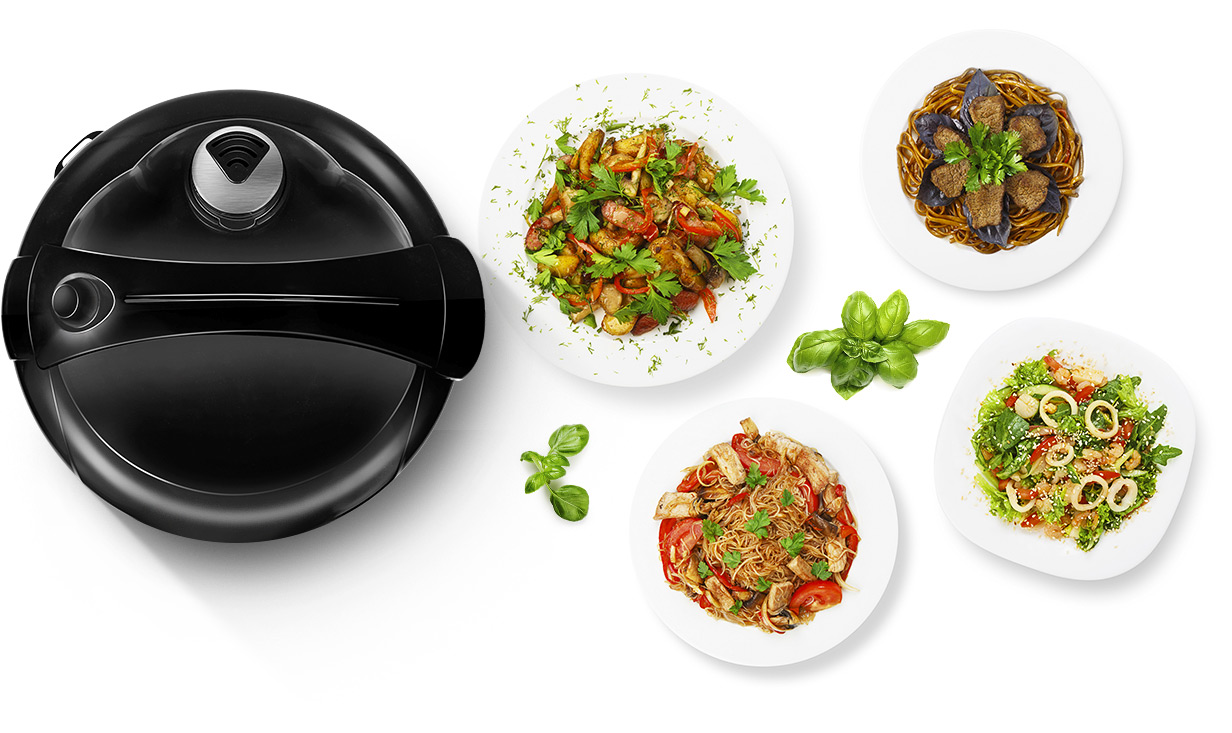 Top REDMOND Multi Cookers
Presenting the cream of the crop of REDMOND multi cookers. Get all the excellent features in various models designed to suit different cooking needs, budgets, and style preferences.
1

REDMOND RMC-M4502E

Colors:

The M4502E multi cooker has 34 programs, out of which are 6 automatic selections with each its own optimal time default setting that can be manually adjusted. Time settings range from as quick as 5 minutes up to 12 hours, while temperature ranges from 40-160C with 20C intervals. The contemporary white or black body with an LCD monochrome display will grace elegance to any kitchen! Comes with the 120 Recipes Cookbook.

2

REDMOND RMC-M90E

Colors:

REDMOND's M90E is a modern multi cooker built with the MOTouch panel and colour LCD display. Cooking is made easy with 45 programs (17 automatic, 28 manual) and temperature adjustments ranging from 35-170C with 5C intervals. The sleek black and metallic body makes for a stylish small appliance with the addition of the 'disable' keep warm feature. The reheat function lets you warm up any dish straight from the fridge! Included is the 100 Recipes Cookbook brought to you by REDMOND Chefs.

3

REDMOND RMC-M4510E

Colors:

A classy multi cooker that empowers you in the kitchen with its unique MASTERCHEF LITE function. There are 40 preset programs (13 automatic, 27 manual), but you can create your own tailored to your cooking specialty. Changes can be made to the pre-programmed temperature and time settings in 5-10 minute adjustments to reach your desired consistency. This model arrives in Black+Metallic, White+Metallic, or Metallic and comes with the 100 Recipes Cookbook.

4

REDMOND RMC-280E

Colors:

The REDMOND 280E's sleek and minimalist design with LCD display will fit nicely in any kitchen countertop. Its relatively compact size remarkably holds great prowess with the capability to execute 51 programs (24 automatic and 27 manual). Temperature settings can be adjusted from 35-170C and allows for disabling the keep warm functionality. Sophisticated color choices are black, gold, and white.

5

REDMOND RMC-151E

Colors: +

Functional, practical and stylish, the 151E is a professional kitchen chef with tremendous multi cooker capabilities. The MASTERCHIEF function allows for program customizations while the temperature can be adjusted between 35-180C in 5C intervals. The REDMOND cookbook with 100 recipes is included with this model. The smart Advanced Self-Cleaning with Steam feature adds to the fun without the tedious after-cooking clean ups. Visually impaired people can experience cooking like never before with the Voice Guide function of the 151E.

6

REDMOND RMC-M4500E

Colors:

An affordable multi cooker for the practical consumer. Select any out of the 10 automatic programs on the user-friendly control panel and easy-to-read LED display. Manual time adjustments can be done in 5-10 minute intervals, where you can restart the program in cases where food comes out undercooked, and come up with a perfectly cooked dish to proudly serve!
CHOOSE YOUR MODEL
As you can see REDMOND has a large assortment that can satisfy any customer.
Choose the model depending on your goals and preferences!
Main Advantages of Multi Cookers
Multi cookers are designed for everyone who wants to enjoy tasty food without spending much time on cooking.
They combine in one device 8 other kitchen appliances:

Oven

Fryer

Rice cooker

Slow cooker

Yoghurt maker

Bread maker

Stove

Steam cooker
All you need is to put ingredients in the bowl, choose cooking mode and come back for tasty food when it is ready.
With a multi cooker you save not only time but also money and precious kitchen space.
Excellent Features of a REDMOND Multi Cooker
Here's how one robust machine can singlehandedly tackle your most challenging kitchen tasks:
Multicook
It's given that multi cookers are built with a wide range of automatic programs, but the key feature lies in its ability to MULTICOOK. You've got the freedom to:
Cook any meal using any cooking method you prefer;
Adjust the time and temperature as needed;
Adapt any old family recipe or cooking instructions found online to your multi cooker.
Masterchief Option
Prepare yourself to life-changing cooking experience with REDMOND Masterchief option.
Choose a mode, set time period from 2 to 99 minutes, and multicooker will cook the dish you want without your participation under high or normal pressure.
3D Heating
Automatically controlled bottom, side and top heat conduction saves vitamin and mineral content in food.
3D heating technology likewise ensures safe, even cooking which preserves original tastes and brings out desired flavours.
Non-Stick Ceramic Bowl
REDMOND multi cookers are defined by superior quality, inclusive of a scratch-free non-stick bowl with excellent thermal conductivity.
The bowl also doubles as storage and can be used for cooking meals in the big oven.
Keep Warm
At the end of a program, the KEEP WARM function switches on to maintain the ideal temperature of food until lunch or dinnertime.
On the other hand, some of REDMOND's top multi cookers give you the option to disable this feature to prevent overcooking.
Time Delay
Setting the program to start with up to a 24-hour delay lets you enjoy a complete breakfast or share a fantastic meal with the family upon returning home from work.
Exclusive Cookbook
Your purchase includes an instructional recipe cookbook fabricated from the passion and dedication of REDMOND Chefs.
Delicious recipes with listed ingredients and step-by-step procedures, along with professional tips will make cooking easy and fun!
Convenient To Use
The REDMOND multi cooker is effortless to transport with its compact design that's built with a carrying handle.
Components such as the steam valve and inner lid can be easily removed for cleaning, while other parts can simply be washed in the dishwasher.
Reheat Option
With reheat option you can quickly reheat any meal you want without any loss of taste or flavour.
Voice Guide
Voice guide function is just perfect for hands-free cooking. Just give short voice commands and let it cook the tastiest meals for you.
Baby Food
Some models are a real life-saviors for mothers: with pasteurise and sterilise functions preparing baby food has neve been easier.
Accessory Set
Accessory sets include all needed for cooking like measuring cups, serving spoons, deep fry baskets etc.
Various Programs For All Cooking Needs
REDMOND multicookers feature dozens of different programs to make cooking fast and simple:
Pizza and pasta programs for Italian food lovers.

Popcorn program to spend a perfect evening watching movies

Jam and dessert
for sweet-tooth.

Young mothers will appreciate porridge and yoghurt options.

Steam and stew for those who prefer healthy food.

Fry, slow cook, quick cook, bake and many other programs.