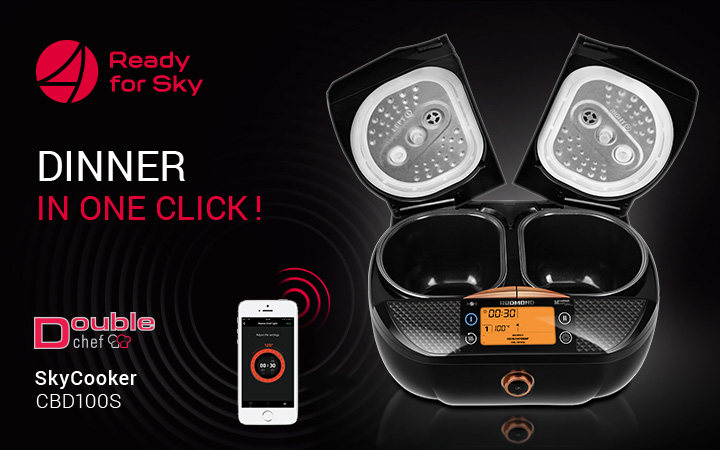 Multi cooker SkyCooker CBD100S is an innovative model with patented REDMOND DoubleChef technology (cooking in two bowls) and remote control from anywhere across the world allowing you to cook simultaneously two different dishes using different programs. You can start the cooking process right from the smartphone.
The Smart multicooker SkyCooker CBD100S replaces the electric stove taking minimal space in the kitchen. Thanks to the DoubleChef technology SkyCooker allows you to cook quickly and easily the full dinner or supper consisting of several dishes. It is easy to simultaneously make mushroom soup as the first course and chicken schnitzel as the second one, diet vegetables as a main dish and smooth fruit yogurt for the dessert in case if someone from the family keeps the diet.
SkyCooker CBD100S introduces an innovative technology allowing to control the cooking in each bowl remotely! You just need to download the Ready for Sky mobile application on your smartphone and you will get access to all functions and programs of this unique device. You can also cook the meal directly from the recipe books built in the Ready for Sky mobile application on your smartphone.
With smart multicooker you do not need to control cooking process and be constantly in the kitchen. It allows you to do two things at once. For example, start cooking the dinner while coming back from work or while shopping or meeting friends.
Smart multicooker with two bowls CBD100S has 50 cooking programs. The manual settings program MultiChef allows you to set the temperature and the time before the cooking starts. It is easy to cook any original dish or the author's recipe and cook sous-vide as well. Using the function MASTERCHEF LITE you can change the time and temperature during the cooking process, and thus, the smart multicooker will please all your tastes and will cook your meals exactly the way you like!
Built-in radio tuner turns SkyCooker CBD100S into the entertainment system. Listen to your favorite radio stations both while cooking and when the device is turned off.
The lunch in one click!
---
* With the free R4S Gateway app installed on an "at-home" Android-smartphone/tablet.