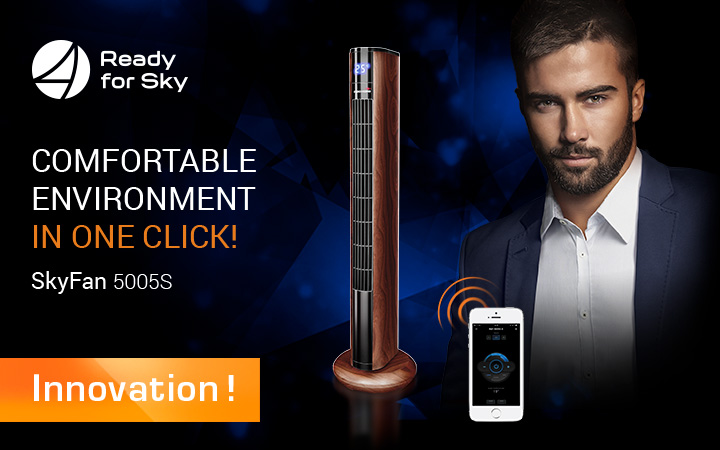 REDMOND has released a new device in the Smart Home series – SkyFan 5005S controlled from your smartphone.
The smart fan is controlled via Ready for Sky application unique for all Sky appliances. In the nearest zone (50 m) the device can be controlled via Bluetooth, in the far zone it can be controlled via Internet with the help of the free app R4S Gateway on your Android smartphone/tablet.
You can check the air temperature in the room from any distance via this application and turn the smart fan on/off if necessary. Using your smartphone you can also set the desired operational mode and airflow speed of the smart fan, turn off rotation or change its speed, set the auto shut off timer (from 0 and up to 8 hours).
The fan has three operational speeds and three blowing modes: standard, "music of the wind" and night mode. The mode "music of the wind" provides uniform ventilation of the room. The night mode limits ventilation to prevent the user from getting cold during the sleep.
In addition, SkyFan has a low noise level. It is perfect for a bedroom or child room.
Developers of smart fan took care of the security as well! The device is equipped with auto shut off function when it falls and with motor overheating protection.
It is convenient to control the smart fan not only from the smartphone, but from the modern touchscreen control panel with bright led display. Using the application you can switch off the control panel backlight to prevent bright light disturbing when sleeping or resting.