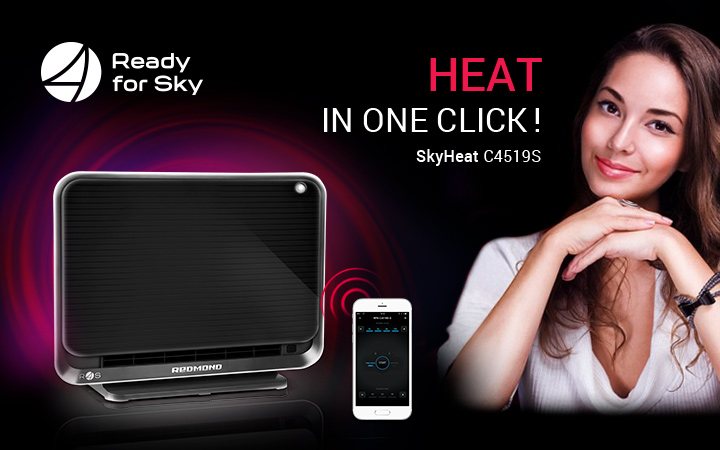 The time when we find ourselves in a cold room after returning from work is the thing of the past. REDMOND's new innovative device SkyHeat С4519Ѕ with an – "intelligent" system can warm up your apartment before your arrival with just a command from your phone.
Now, you do not have to be near the heater to turn it on. Why would you waste time freezing and waiting for your room to heat up? Turn the heater on directly from your smartphone while coming back from work or after a little walk. All you should do is install y the intuitive application Ready for Sky (R4S) on your phone. With this application you will get an access to all the functions and working modes of the heater and will be able to control the smart appliance from any distance.*
Advanced application R4S makes controlling SkyHeat С4519Ѕ incredibly easy. You can select and install the desired operation mode from your phone. The standard mode is suitable for gradual heating and the turbo mode is suitable for the fast heating that might be very helpful if you forget to warm up the apartment in advance. If you are coming home every day at the same time then you can use the delayed start (up to 8 hours) of the appliance. If you would like your smart device to heat your apartment constantly for a certain period of time, then the Timer function (up to 12 hours) is just for you! It is all very easy and simple!
The smart gadget is equipped with a system of intelligent heating. It can indicate the presence of people and animals and turn off automatically when everyone leaves the room. This system, as well as the remote control and convector type of the heater allow you to manage the electricity usage.
SkyHeat С4519Ѕ has a complex system of protection. It shuts down automatically when overheated and when it falls. In addition, through the mobile application you can always block the control panel on the heater to be its only operator. The R4S application has a personal data protection system, so that nobody can log into your account and change the heater settings. Everything is under your control!
The REDMOND device is also environmentally friendly. Its heating element is made of ceramic, so that the heater does not dry the air out. SkyHeat С4519Ѕ can not only heat your home but also create the atmosphere of comfort and coziness.
Heat in a click!
________________________________________
---
*When you install the R4S Gateway app on your home Android smartphone/tablet.