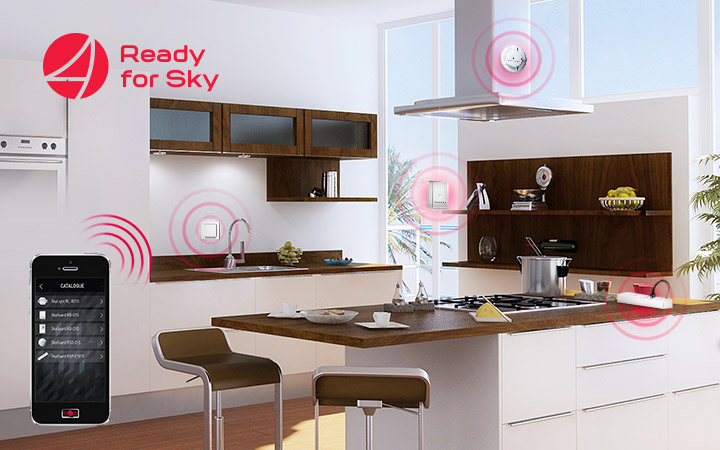 New gadgets from REDMOND are progressive and at the same time very simple solutions for home security and comfort. You can remotely control the connected devices. In addition, they will immediately notify you of the smoke or the presence of a stranger in the house. The REDMOND smart gadgets guarantee the customer peace and the safety of his/hers property.
You can control all smart devices via the Ready for Sky application, installed on your smartphone or tablet. Besides, the developers focused particularly on the secure data transmission that can guarantee the gadgets safety operation.
Smart Guard SkyGuard D1S
Before leaving on vacations or on business trips, activate the guard mode D1S to remotely control your house. The smart sensors will inform you about unexpected activity in the house by sending notification to your personal smartphone.
Smart Reed Sensor SkyGuard G1S
Even in your absence you can be sure of your property safety. In case of unauthorized intrusion through the doors or windows, your smartphone will receive notification. The sensor can also be used to control the opening of cupboards, drawers, and safe boxes with valuable items.
Smart Smoke Guard SkyGuard 01S
In case of smoke in the apartment, garage, or country house, as well as when the temperature is very high in the room the smoke detector will send you a smartphone alert, and you will be able to react immediately.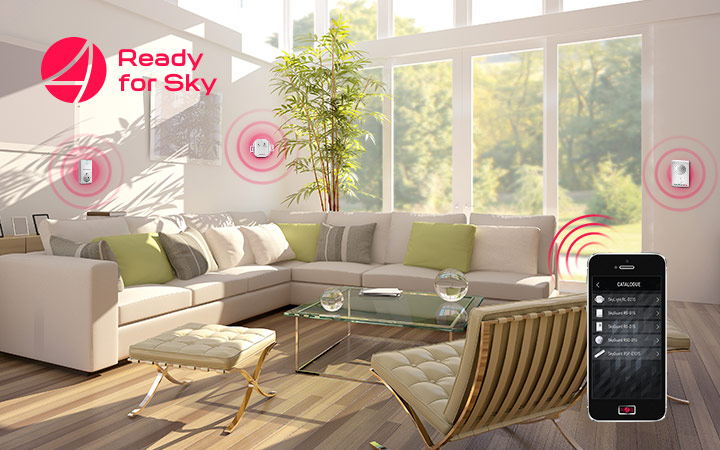 Smart Light Control Unit SkyLight B21S
The device allows you to remotely control the lamps activity. Through B21S you can schedule the lamp switching on/off, the lamps smooth switching on /off and dimming (incandescent lamps). SkyLight can be synchronized with a motion sensor to have the lights turned on automatically when entering the room.
Smart Plug SkyPlug E101S
The device allows you to remotely control the operation of several home appliances at once. With the help of your smartphone you can schedule the appliances operation (e.g. ventilator) when you are out and create switch on/off scenarios. The application registers the electricity consumed by each device and stores the data for the future electricity saving.
Smart Light SkyLight S1S
Thanks to the device you can remotely turn on/off the light in your apartment or a country house. With S1S you do not have to worry about the lights being on and consuming a lot of electricity. Just go to the app and in one click the light will be off! What is more, the S1S is equipped with the built-in thermometer for climate control.
Smart Socket Gateway 102S
Smart Socket Gateway 102S is a 2-in-one device. Control all your REDMOND smart devices from anywhere in the world using Wi-Fi with the smart socket and gateway in one device. The Socket allows you to remotely turn any connected appliance on/off and schedule its operation. The device also registers energy consumption for your convenience.