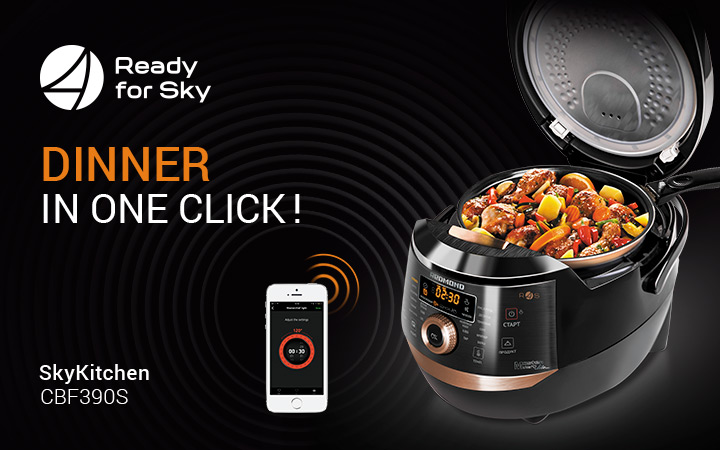 Multikitchen REDMOND SkyKitchen CB390S is an innovation in the REDMOND Smart Home technology series. The modern device is enhanced with brand innovation technology. The remote control function Masterfry® allows you to raise up the heating element (heater) of the device. The SkyKitchen also has a built-in radio tuner.
You can control the smart multikitchen from anywhere across the world with the smartphone via the Ready for Sky application.* A user can remotely turn the device on and off and start/stop the automatic programs. The application interface allows you to save your favorite programs in the quick launch menu and start cooking directly from the built-in Ready for Sky cookbook with just a couple of clicks in your smartphone.
The patented technology REDMOND Masterfry® transforms the multikitchen into a compact smart oven. The lifting heating element of the device can be raised up, the user can cook in any heat-resistant utensil** and even boil water in the kettle. The surface of the heating element and the bottom of the frying pan are completely flat so that the oil distributes uniformly. You need a very small amount of oil and you can even cook without it.
50 cooking programs of the smart multikitchen are available in the both positions of the heating element and at any distance. They can be used to cook a variety of dishes: yogurts, soups, side dishes, main dishes, desserts and more. The function MasterChef Light is available from the control panel as well as via the R4S application. It allows you to change temperature and cooking time directly during the running time of the program.
It is safe to use the smart multikitchen. The device stops heating or switches to the "Keep warm" mode according to the settings after you are done cooking.
CB390S has a built-in radio tuner and stores up to 9 radio stations in the FM range from 76 to 108 MHz.
Smart multikitchen has limited Chrome and Bronze surface edition and features a refined and elegant appearance.
---
*Set the free Ready for Sky application via Google Play or App Store. From the distant zone the device can be controlled when the free mobile application R4S Gateway is installed on the home Android smartphone/tablet.
**The bottom diameter of the frying pan and other utensils must not exceed the device's heating panel diameter. Ensure that the edges and handles of the cookware do not come into contact with the plastic components contained in the multikitchen and lid sealing ring.