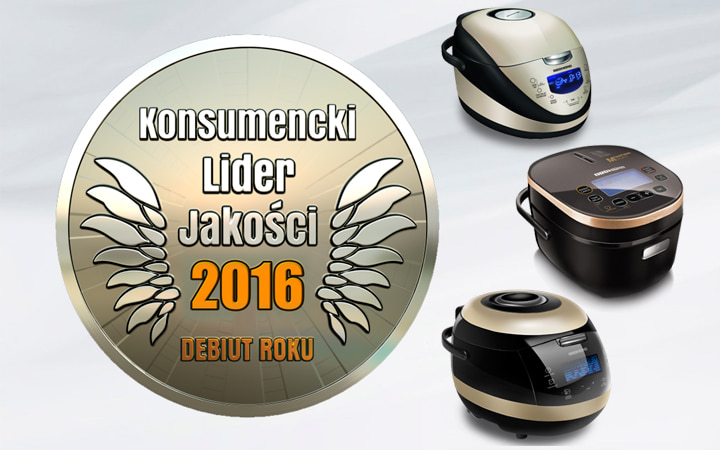 The prestigious Consumer Quality Leader award (KONSUMENCKI LIDER JAKOŚCI) is annually organized by the editors of Strefa Gospodarki ("Economic zone") that is one of the largest Polish print media in cooperation with the magazine Dziennik Gazeta Prawna. The REDMOND brand became the award winner in 2016.
According to award sponsors at a time when the consumer opinion is influenced by many factors such as price level, brand popularity, product mix width and availability of products and services it is very important to find out who is the best of the best according to end users. This information is essential both for the consumers and manufacturing companies: being well aware of what to be guided by, they will be able to improve the quality of their products in accordance with market requirements.
REDMOND shapes the direction of development for appliance manufacturers, indeed modern multicookers M151E, 280E, M150E, 250E got the best reviews from respondents! Customers in Poland have evaluated multifunctionality and wide range of appliance features, design and quality and, on top of that, accessibility of hi-tech multicookers.
Now REDMOND flagship models are marked with the logo of KONSUMENCKI LIDER JAKOŚCI that is a high-quality mark very well-known to polish people. The brand is launching the innovative Smart Home line-up to the market that features home appliances remotely controlled from smartphone to justify high user ratings and provide consumers with the latest appliance innovations.
"The Consumer Quality Leader award is extremely important to us as all REDMOND products have been duly appreciated by end users that means by people we work for. We're happy that our household appliances help polish customers move with the time and go about their business not wasting time on daily household routines. Up-to-date appliances from the Smart home line-up that can be controlled from anywhere in the world from smartphone will be launched to the market in the closest time. First REDMOND smart devices will appear in stores in the nearest weeks so that polish consumers can use innovative appliances as soon as possible" – said Yaroslav Skultety, general manager of the REDMOND branch in Poland.