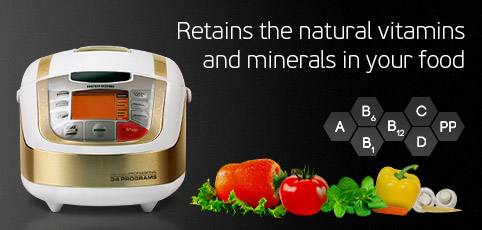 Keeping a healthy, balanced diet can seem almost impossible when you have a busy routine. It's easy to fall back to junk food and quick sugar-laden snacks to keep your energy.
REDMOND's multicooker is extremely simple to use and doesn't require you to hang out in the kitchen whilst you wait for your meals to cook. Now you can simply put all of the ingredients in the multicooker and select the proper program.
Healthy eating made easy
With temperature control and delay start functions, a REDMOND multicooker lets you put your ingredients in the cooker, select a program, and return home from work to a nice warm meal. Want nutritious porridge for breakfast? Pour milk and oats into your multicooker and wake up to your first meal of the day.
Lock in vitamins and minerals with 3D heating
Some models REDMOND multicookers come equipped with 3D heating. This means that heating elements placed in the multicooker bowl allow the machine to reach its optimum temperature as well as reducing the time it takes to cook.
Thanks to this delicate heating system, your ingredients retain their vitamins, minerals, and nutrients. It also makes incredibly healthy and tasty meals. The built-in microprocessor controls the device, protecting your meals from sticking.
Lower your calories without sacrificing taste
With our multicookers, you can use less oil or butter to cook with, diminishing your calorie count. Try one of these healthy meals in your multicooker:
PORRIDGE – Avoid your milk boiling over or your oats sticking to your pan. With a multicooker, simply pour milk in the bowl, pour in oats, turn on the appliance let your multicooker take care of the rest.
STEAM - Just pour water in the bowl, place your food in the steam basket and enjoy a rich and healthy meal.
YOGHURT - Make your own homemade yoghurt and enjoy a healthy breakfast, snack, or dessert.
STEW – Healthy doesn't mean light. Try homely, warm stews packed with vegetables and lean meats for a healthy yet hearty meal.
MULTICOOK - the multicook program lets your imagination take hold. Let the chef inside you experiment with the time and temperature of the program you select, allowing you to create your own signature dish to perfection.
Let the multicooker do the work whilst you eat healthier, tastier food and spend more time doing what makes you happy.