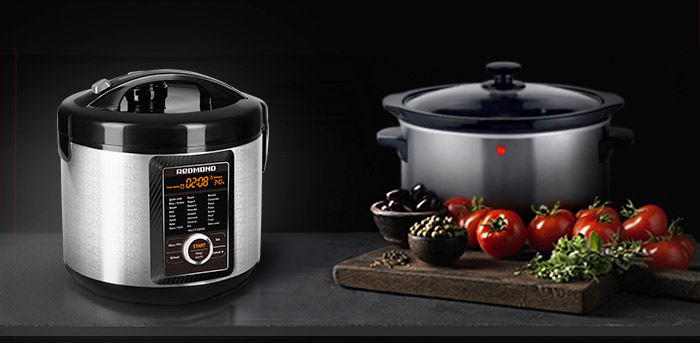 Many of us are very sensitive to cooking. Healthy eating is on trend today! To be precise, healthy food should be tasty and should be cooked quickly. Indeed, rapid rhythm of life won't let us slave over a stove for long hours. What can we do about it? The answer is simple - look for an appliance which will cook according to our rules. It's clear that cooking preferences and tastes are different. Fortunately, technical progress has made a step forward and brought about a multi-purpose appliance. It's a Multi Cooker! This handy device combines features of a range of cooking appliances, including a slow cooker and a presure cooker.
Saving: When a Multi Cooker comes into your kitchen it becomes evident that nothing can be compared to this smart device! This unique kitchen gadget is a wonderful substitute for the whole range of kitchen appliances. Just imagine it can replace a steamer, a deep fryer, an air grill, a slow cooker, a pressure cooker, an oven, a bread maker, a rice cooker and a microwave oven! Why clutter up your cupboards with household appliances, if all the features are included into one compact Multi Cooker? This all-in-one device significantly saves space in your kitchen and allows to reduce the power consumption. Why would you throw away lots of money for purchasing separate household appliances? There's no need for this! It's much more profitable to buy a hi-tech Multi Cooker. No matter how you slice it, you're the winner!


Cooks everything! Slow cooker owners may ask a question: in which ways a Multi Cooker is better than their appliance? Let's find it out.
The first distinctive feature: The slow cooker cooks food slowly and at low temperatures. It mainly takes you several hours to cook meat in the slow cooker that is an unimaginable luxury for a modern person! The Multi Cooker, in the contrary, cooks twice as fast than a stove. It concerns even the most complicated dishes which require long thermal processing. Some of the REDMOND Multi Cookers have a slow cooker feature – they may cook food under high pressure that is very convenient for busy people! But this is not the only reason why the Multi Cooker leaves behind slow cookers and other kitchen appliances. The important thing is that Multi Cooker has different usage modes. It means it can cook food quickly, for a long period of time and at low temperature.

The second distinctive feature: The slow cooker is not recommended for food reheating. Why? This is because reheating takes quite a long time, during which you will cook one or two dishes in the Multi Cooker! This high-tech appliance can replace a microwave oven and allows for reheating ready dish even if you've just taken it out of the fridge. Besides, the Multi Cooker has one more useful feature – Keep Warm. It helps to keep your masterpiece warm for 8 hours. Now you may not worry that ready dinner will cool down before your husband returns home from work or your children get back from school. Meet your family and friends with hot dishes: the Multi Cooker will never fail you!

The third distinctive feature: The slow cooker capabilities in comparison with the advanced are very limited. Your slow cooker allows you to stew vegetables and meat, but it is not capable of frying foods. It means you'll have to adjust recipes for this device: e.g. fry foods preliminarily before cooking them in the slow cooker. The slow cooker is not able to cook a cream of tomato soup, won't cook Yorkshire pudding for you, won't bake flavourful bread and won't be able to prepare natural yoghurt. While the modern REDMOND Multi Cooker will perfectly cope with all these tasks! It may cook meat, poultry and fish, pizza and pudding, milk porridge and berry dessert, rich soup and side dishes from grains, potatoes or vegetables. Do you want to prepare sweet and warming mulled wine from rich sorts of wine? Are you dreaming about tender fruit yoghurt? The REDMOND Multi Cooker will make all your wishes come true! It's just incredible!


Healthy diet. Once we change and understand that we have to pay a high price for unhealthy food – a bloated body, an exhausting diet and health problems. Fortunately, sticking to a healthy diet is much easier now – just put the Multi Cooker at the head of the table! Its bowl has an eco-friendly non-stick coating. It provides cooking food with little oil or no oil at all, that is much safer than products cooked on a regular stove. The most important thing is that dishes in the Multi Cooker never burn! All products in the bowl are uniformly heated. Some REDMOND models have 3D-heating. It provides thermal food processing from three sides that helps to preserve all the vitamins and nutrients. Cooking in the Multi Cooker doesn't require much salt and saturated fat. Besides, each appliance has special methods of food processing for cooking healthy and dietetic meals: stewing, baking and steaming. In REDMOND Multi Cookers with the MULTICOOK programme you may easily cook dishes using sous vide technology. The MULTICOOK allows adjusting the desired time and selecting the temperature which won't be increased during cooking. It means the sous vide technology will be completely observed and rich dishes just like from haute cuisine restaurant will appear on your dining table. The Multi Cooker is just a catch for healthy food lovers!


Convenience. The Multi Cooker is incredibly easy to use when cooking different dishes. The steam tray and deep fry basket are included in set with this hi-tech device. You can bake salmon with potatoes or cook beef steaks and a modern REDMOND Multi Cooker will accompany your best wishes! When you start using this Multi Cooker you realize that this device was made with respect to real requests of citizens. With this appliance you don't have to get up early and make breakfast in a rush – the Multi Cooker will do it by itself. Yes, that's true! Just put the ingredients into the Multi Cooker bowl on the eve, set the programme, enable the Time Delay function and you can go to sleep. The Multi Cooker will cook for you tasty breakfast quickly and quietly – omelette with cheese and vegetables, dietetic porridge or a flavourful fruit pastry. You wake up, do exercise, go for a run or practise yoga and your Multi Cooker cooks breakfast for you!


Safety. While developing this innovative device the manufacturers took care of safety. All REDMOND Multi Cookers come equipped with a reliable overheat protection system. Besides, special tongs for bowl removal are included in set with each appliance. They will help you to easily take the ready dish out of the bowl. Some Multi Cookers with the slow cooker feature have programmes that cook food under high pressure and housewives generally ask whether this device is dangerous. Not at all! The lid of the Multi Cooker with the slow cooker feature is tightly closed; it can't be opened until the end of cooking thanks to the blocking sensor. Even the noisiest child won't be burnt by hot soup, don't worry!


Original cuisine. This multifunctional Multi Cooker could become a bright detail of a fairy tale. This technological wonder has dozens of cooking programmes. You may even make cheese, cottage cheese or delicious chocolate, fruit or cheese fondue. And there is more to come! The majority of REDMOND Multi Cookers have an additional MASTERCHIEF function: It allows for temperature and time adjustment during cooking, and also changing the programmes to your taste! That's amazing! The MASTERCHIEF function reveals new capabilities for original cuisine. Thanks to this function you may stick to a definite diet or just experiment with recipes, taken from Internet or advised by your best friend! It seems that there's nothing easier than to enjoy cooking and live an easier life!
We often hear that our fate holds a lot of surprises for us. You should have no doubts that your Multi Cooker, being one of them, is a true gift!