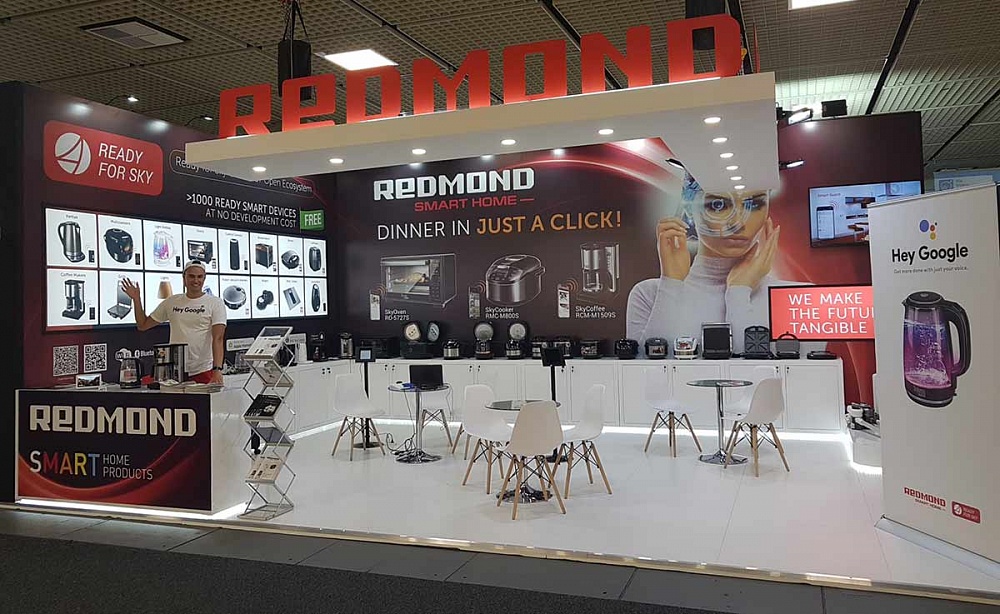 During the period from 6 to 11 September, REDMOND participated in the largest International Exhibition of Consumer Electronics and Home Appliances IFA 2019. The brand presented to the guests of the event a line of smart appliances for the kitchen, as well as the voice control option for smart devices using Google Assistant.
One of the IFA priority areas in recent years is the concept of a smart home, where all household appliances and electronics are interconnected, and their functioning can be controlled using a single application or using voice assistants.
New products from REDMOND
The focus at the Redmond booth was a full-scale line of smart appliances for the Sky-kitchen. A number of teapots, coffee makers, multicookers, ovens, multibakers, grills, and other devices presented in the line greatly facilitate the process of cooking and free up time for the user to do other things. REDMOND smart appliances cook automatically and cover all cooking technologies available in the home cooking field.
Using smart devices, the user does not have to waste time standing at the stove and monitor or control the cooking – smart devices can be controlled from anywhere1 through a single Ready for Sky application. Using it, you can enable/disable devices, adjust settings and start cooking according the recipe from the built-in cookbook in one click. At the REDMOND booth, everyone could try to control household appliances remotely through the app and appreciate the convenience of this option.
The Ready for Sky app brings together not only kitchen appliances, but also it is the single app for all the REDMOND smart appliances at home. It is planned that in the near future, the application will implement the option to configure the interaction of all devices with each other according to user scenarios.
Voice control
At IFA 2019, REDMOND presented the option to control smart devices from the brand using voice commands supplied to Google Assistant. For now, this option is only available for European users. The first voice control integration stage covers some smart kettles, grills, multicookers, multibakers, smart sockets, as well as several models of climate control.
By means of voice commands these devices can be switched on, off or activated in some modes. In the future, the available options and capabilities are planned to be expanded. The list of devices that can interact with Google Assistant will also be increased.
About the exhibition
The International Exhibition IFA has been held in Berlin (Germany) since 1924. Every year the IFA site gathers the largest manufacturers of home appliances and hundreds of thousands of visitors. Traditionally, the IFA determines the main trends in the field of household appliances and electronics and establishes new trends in the development of devices for a modern person's life.
---
*Control from anywhere in the world is available when you connect through the free mobile R4S Gateway app available on your home smartphone or tablet.