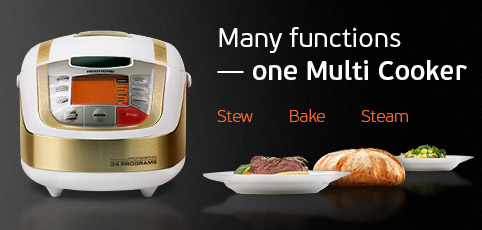 In a rush, don't have enough time and always on the run? With more responsibility comes less free time. It's difficult to find a balance between work and home not to mention finding time to spend on hobbies and with friends. REDMOND understands this concern and has created a multicooker designed to help you revolutionize your life so you can spend your time where it matters most.
The multicooker - is a modern, multifunctional household appliance. Its main advantage is that it's multifunctional and can replace a number of kitchen appliances such as a stove, oven, pot, pan, breadmaker, microwave, deep fryer, etc. Save your money and space in your kitchen by simply buying one amazing appliance, a multicooker!
REDMOND multicookers come equipped with automatic programs. Simply select a program, place your ingredients in the machine, and press start. Let the multicooker cook for you. The built-in microprocessor controls the temperature and cycle of the program you selected which ensures that your meal will be cooked to perfection.
Among the many programs on our multicooker, one distinguishable one is the STEAM function used for steaming vegetables, meat, fish, and food for children.
BOIL can help you make side dishes for dinner such as rice, potatoes, pilaf, and even oatmeal.
The program, FRY, allows you to grill different types of meat, vegetables, and seafood. Cooking burgers, steaks, and French fries are no problem for this function.
A great program to make plenty of food to go around, the STEW program can be used to make a hearty meal for your family.
The SOUP function not only prepares delicious soup, but also purees such as mashed potatoes and beverages.
OATMEAL allows you to cook rice or oatmeal.
BAKE not only meat, but cake, cookies, casseroles, pizza, and bread.
Make homemade YOGURT yourself.
Some multicookers have a MULTICOOK program so you can chose the ingredient (meat, fish, and vegetables), the time and temperature so that you can cook a variety of recipes and experiment with any dish. This program can also pasteurize, sterilize, and prepare to preserve food.
It's important to note that your meals cooked in the multicooker will be as tasty as food cooked more traditional ways. This multifunctional device doesn't affect the quality of the meal, but enhances its natural flavor. The multicooker is environmentally friendly as well and can help reduce the payment of your electricity and gas bills. Save time, space, and money with the purchase of just one device.
REDMOND multicookers also come equipped with a TIME DELAY function which allows you to set a time and start the program at the time of your choice. This smart appliance can start cooking even when no one is at home so your meal will be ready when you get back from work or the kids get home from school. REDMOND multicookers also have a KEEP WARM function which will maintain the temperature of your food so your dishes don't need to be reheated.
In just this one appliance, you can make soup and then a delicious dessert. Additionally, it is dishwasher safe, so you can spend less time cleaning up. Easily remove the steam valve and sealant ring for a quick clean.
The multicooker is convenient and easy to use (even for those who can't cook). Each device comes with a cookbook full of recipes designed just for your multicooker. A REDMOND multicooker is the perfect choice for business men and women who are always on the go, college students living in the dorm or always studying for exams, mothers who want to spend more time with their children, and for anyone who cherishes their free time. Save time and eat healthy meals with REDMOND multicookers!