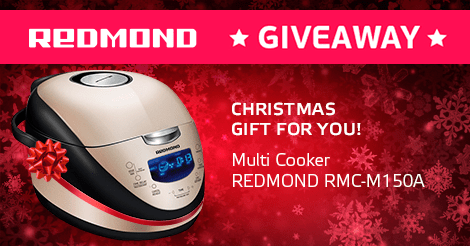 The holiday season is almost over!
Although Christmas Day is over, the Christmas spirit and Christmas joy are still everywhere around people. How is your Christmas 2015 holiday? REDMOND bets you must have got a superb Christmas celebration. Still feel not enough for the Christmas celebrating? If so, you're here in the right place.
Now, to prolong and add more Christmas joy, REDMOND gives its customers and followers REDMOND RMC-М150A.
REDMOND has decided to prolong holiday Giveaway just a little longer giving you a bit more time to win REDMOND RMC-М150A! REDMOND RMC-М150A is a stylish, compact, and easy-to-use Multi Cooker for cooking any dish automatically: from Turkey with cheese to Steamed vegetables. Thanks to a new MULTICOOK program it is possible to cook any healthy and rich dishes. (You can learn more about this modern device with a number of new programs on the official REDMOND website)
It's our way of thanking you for being a follower and friend! Only one lucky person will win REDMOND prize!
Christmas is the season for sharing and caring. I hope all of you are enjoying your holiday preparations and are not allowing them to frazzle you!
To be the winner of REDMOND RMC-М150A you should:
Be the follower of REDMOND Multi Cookers page on Facebook
Repost REDMOND Giveaway on your page
Write a remarkable comment why REDMOND Multi Cooker is the best variant gift for Christmas and New Year Eve.
The winner will be chosen in 2 steps:
1st step – the administrator of the group REDMOND Multi Cookers will choose 3 best comments
2nd step – followers of the group REDMOND Multi Cookers will vote for these 3 best comments
TADAM!
After these steps there will be a winner!
The Giveaway will run until January 13, 2016, on 6 pm.
Good luck!
Terms & Conditions
The giveaway is an American and Canadian giveaway (the USA and Canada postal address only)
You must be age of majority in your Country of residence.
Only 1 entry per person, do not enter multiple email addresses. We will verify all winners and if we detect multiple email addresses by the same person you will not be eligible to win.
We reserve all rights to make any changes to this giveaway.
The prize will ship immediately after connection with the winner