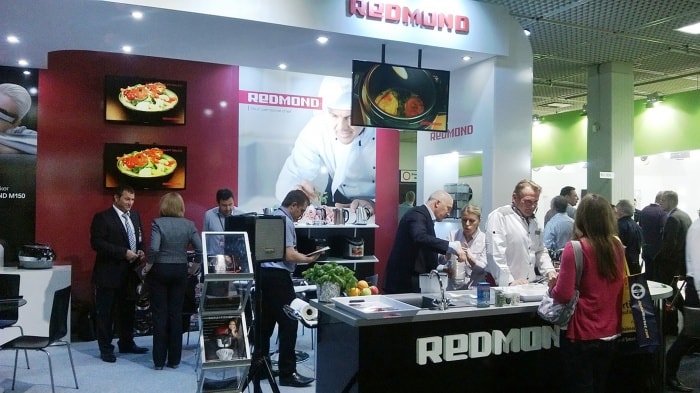 Berlin, Germany
6-11 September, 2014
REDMOND presented the latest design – the multicooker RMC-IH300 with induction heating at the international IFA exhibition.
At the exhibition, REDMOND introduced the innovative multicooker model, the RMC-IH300 with induction heating which prepares meals at least 2 times faster than traditional methods. By reducing the time it takes to cook, users have not only more free time, but also healthier meals (by reducing the duration of the heat treatment, the food preserves its vitamins and nutrients). Also, it saves the family money by reducing the energy consumption. REDMOND's IH300 is equipped with 52 programs, the MULTICOOK program, memory recall for the last setting used, a convenient display which tells you the schedule as your food cooks, and a multi-layered, wok-shaped bowl. The sale of the IH300 started at the end of 2013 in Russia and Ukraine. Multicookers are the most popular home appliances in these countries.
REDMOND showcased the already popular models - RMC-250, RMC-M150, and RMC-M90 – as well as other new kitchen appliances: juicer RJ-M900 which can work continuously for 200 hours with a low noise level, meat grinder RMG-1203-8 with a juice auger and extended set, etc.
IFA – is a major exhibition of innovative electronics where participants present their latest developments. IFA annually brings participants from around 1,500 companies from more than 100 countries. According to the organizers, for 6 days the IFA 2013 exhibition was attended by nearly 240,000 people of whom more than 140,000 were specialists in the field of electronics. REDMOND held meetings with partners including representatives of major European networks.