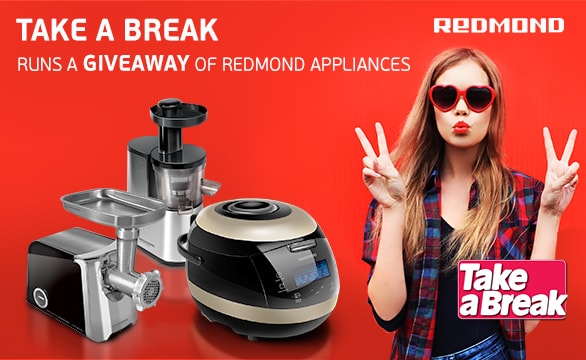 The simple contest with splendid prizes! What should you do? From August 25 to October 7 enter the magazine's official website www.takeabreak.co.uk, go to Clicks Win, choose Win REDMOND cooking appliances field and enter your e-mail in the corresponding field*.
'Take a break' runs the giveaway of a set of three premium appliances** from REDMOND for its readers: a multicooker RMC-151E, a meat grinder RMG-1205-8-E and a slow juicer RJ-M920S-E.
About prizes:
The multicooker RMC-151E cooks for everyone! This versatile device has 49 cooking programmes for boiling, baking, frying, stewing, steaming and deep-frying. The non-stick ceramic coated bowl allows cooking with little oil ensuring that all your meals are tasty and healthy.
The meat grinder RMG-1205-8-E functions as a meat grinder, a food processor and a slow juicer. It excellently grinds meat, shreds and chops vegetables and fruits and also squeezes juice. 3 sausage stuffer attachments come fitted with the appliance.
The auger juicer RJ-920S-E gently squeezes fine juice almost of all kinds of foods: vegetables, fruits, berries, herbs and roots. It preserves 50% more vitamins in juice than a regular juicer. Juice extraction level is up to 85% of the product weight!
* To view the full list of rules, please visit http://clickswin.takeabreak.co.uk/
**The prize winners will be notified within 14 days after the date of the contest.