Soup

Creamy salmon soup (2)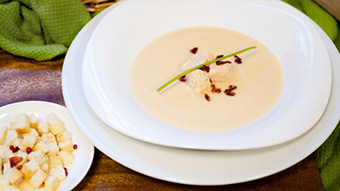 Ready in: 40 minutes
Select your device
Ingredients
| | |
| --- | --- |
| Salmon (fillet) | 300 g |
| Potatoes | 200 g |
| Marrow squash | 60 g |
| Onion | 60 g |
| Carrot | 60 g |
| Water | 800 mL |
| 10 % cream | 100 mL |
| Salt | |
| Spices | |
Directions
Cut the fish and vegetables into small cubes and place all ingredients (except the cream) into the bowl and close the lid. 
Press MENU and select SOUP. Then press COOKING TIME and set the time for 40 minutes. 
Cook until the program finishes then pour the soup into a separate container and add  the cream. Blend until smooth.