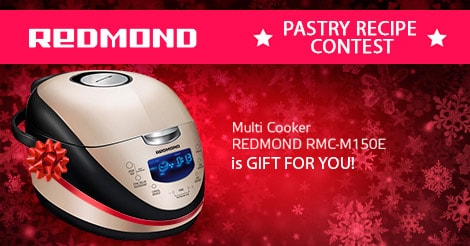 Calling all creative cooks!
We are sure that you have your favorite pastry and it is the dish that you can prepare for the best!
Share with it and your great recipe could score you REDMOND Multi Cooker!
The gist of the contest is simple:
be the follower of REDMOND Multi Cookers page on Facebook,
prepare your lovely and the best prepared pastry*,
describe your recipe step-by-step and take pictures of it*,
publish a post with the photos on your page and start it with the phrase: "I am the participant of the Pastry recipe contest from REDMOND" and write a link to your recipe in comments under REDMOND post about the contest on REDMOND Multi Cooker page on Facebook.
Only One Prize to Score!
What can you win? A useful gadget: REDMOND RMC-M150E!
Be sure to enter your recipe by January 13th, 2016!
*you should send the original image by e-mail!
*the recipe should be prepared special for this contest!
Terms & Conditions
The contest is for the EU countries: the UK, Germany, Italy, Spain, and France, the Netherlands (the postal addresses of these countries only)
You must be age of majority in your Country of residence.
We will verify all winners and if we detect multiple email addresses by the same person you will not be eligible to win.
We reserve all rights to make any changes to this giveaway.
The prize will ship immediately after connection with the winner