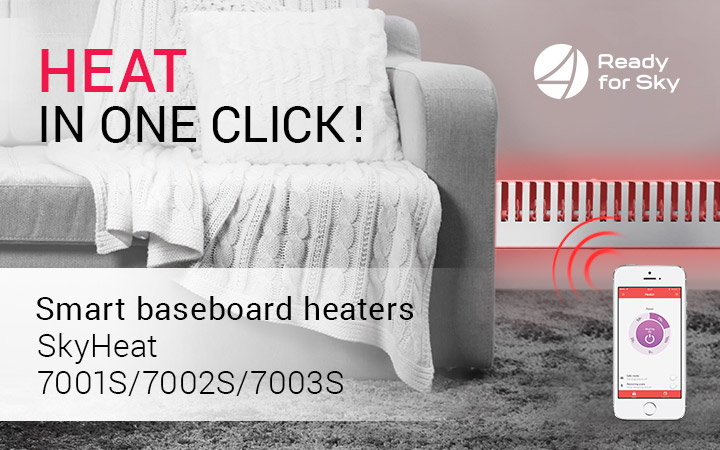 This type of convectors allows heating almost any kind of space. The baseboard heater can be easily installed both on the floor and on the wall. The device is almost invisible, has a low noise level and is secure for children and pets.
The baseboard heater functions as a thermal screen. The device heats the walls and they start to radiate the warm air and heat the room. Thanks to this feature the room can stay warm for a very long time. Due to the lack of contact between the air and the heating element, the oxygen is not eliminated and the comfortable atmosphere in the room is maintained.
Control appliances from your smartphone from anywhere across the world* with the free Ready for Sky mobile application.
The remote control provides maximum safety when using the SkyHeat. You can check the convector operation process from any distance and, if necessary, switch it on or off. With the help of the application you can shut off the heater 7001S/7002S/7003S power supply and nobody but you would be able to switch it on.
The smart heater has 4 power modes, allowing to choose the desired heating level. The power can be set up both from the device control panel and from the Ready for Sky application.
From your smartphone you can schedule the heater by setting the desired operation period of the SkyHeat 7001S/7002S/7003S and set up the heating level for this period. For example, it is possible to set a maximum power of the heater just before returning home and a minimal one when everybody leaves the apartment.
The baseboard heater is also convenient in your country house. To reduce energy costs you can pre-program the device and it will be switched on only for the days of your arrival. A reliable overheating protection and durable stainless steel housing guarantee the long service of the smart heater.
Heat in a click!
*With the free R4S Gateway app installed on an "at-home" Android-smartphone/tablet.