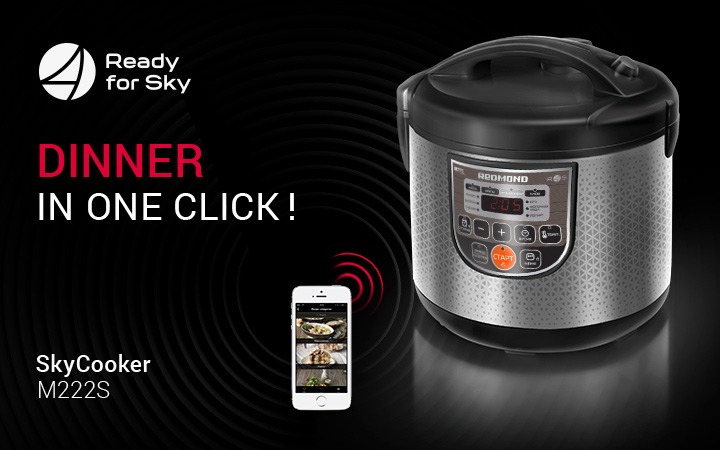 REDMOND continues to develop technologies for the smart home management, creating the smart devices easy to integrate into the living space. The brand constantly offers available solutions for the embodiment of the Internet things to give access for as many people as possible to the latest advanced solutions in the field of household appliances. The REDMOND solutions are economically and technologically accessible to a wide range of consumers. Now everyone can make his/her home smart!
A new device in the REDMOND Smart Home series is a multicooker REDMOND RMC-M222S. With the help of the multicooker it becomes easy to follow a healthy diet. What is more, you do not need to be in the kitchen while cooking meals. You can turn the device on/off from any distance, start and stop automatic programs or activate automatic preheating from your smartphone via the Ready for Sky application *.
A large recipe book is loaded in the application. You can start cooking any dish with just a few clicks on the smartphone screen. It is sufficient to pre-load the ingredients, and RMC-M222S will cook the food without any user control and will send an alert to your smartphone when the dish is ready.
The Smart multicooker has a compact size and an extensive set of functions. The device has 11 automatic programs, allowing you to prepare the first course and the second course, garnishes, soups, pastries, yoghurts and much more. The function Masterchef light is available from the control panel as well as via the application. It allows you to change temperature and cooking time directly during the cooking process. This feature helps you to reconfigure the automatic programs settings to your taste.
The smart multi cooker REDMOND RMC-M222S, like all the devices of the smart technology series, does not require the usage of special engineering solutions and additional equipment in your home. The combination of extensive functionality and reasonable price makes this model available to everyone who wants to try the Smart home technology lifestyle.
Lunch in one click!
---
*Set the free Ready for Sky application via Google Play or App Store. From the distant zone the device can be controlled when the free mobile application R4S Gateway is installed on the home Android smartphone/tablet.