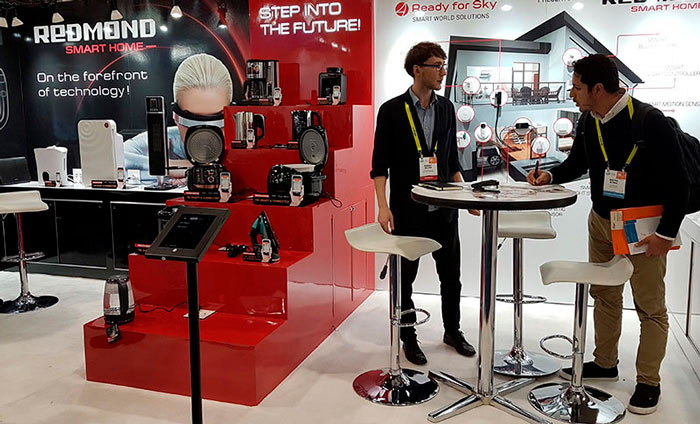 Las Vegas, USA, January 5–8, 2017
The CES exhibition (Consumer Electronics Show) presented in Las Vegas has provided a platform for the world's largest innovators and the most ground-breaking, promising start-ups in the field of futuristic technology development on an annual basis for over 50 years.
The primary focus of CES 2017 was set on various smart and communication technologies aimed toward providing comfort and convenience to life in the modern world and creating a brand new smart environment. Autonomous cars, robotic assistants, clothing with integrated sensors for recording physical activity, the latest computers, audio and AR developments, as well as numerous smart gadgets were presented at different booths at the CES.
REDMOND, in turn, unveiled a line-up of smart appliances, which included devices already available for purchase, as well as appliances, the serial production of which is planned for the coming months. Visitors were given the treat of testing out smart kitchen appliances controlled from a smartphone via the Ready for Sky application right at the company's exhibition booth. Among the key innovations showcased at the exhibition in Las Vegas were the multicooker SkyCooker CBD100S with DoubleChef® technology patented by REDMOND (equipped with two independent heating elements and bowls), the smart multikitchen RMK-CBF391S with a lifting heating element and MasterFry® technology, and the smart kettle with adjustable illumination RK-G200S.
Presented alongside the SkyKitchen devices REDMOND were compact all-in-one gadgets for home safety and security, such as smart plugs designed for use indoors and outdoors smart smoke and motion detectors, and compact smart light bulb socket and lighting control units for creating a smart lighting system of minimal cost.
Furthermore, the attendees had the exciting experience of controlling the REDMOND smart appliances and gadgets using their voice via the Amazon's Echo smart speaker. As of today, the smart light bulb socket REDMOND RSP-202S, the smart plug 100S, and the kettle SkyKettle RK-M170S-E are capable of understanding user voice commands. In the future, the range of appliances controlled via the Amazon's voice assistant will expand even more rapidly. The feature of switching appliances on and off using a voice is thus far available for English-speaking users only.
The multifunctional REDMOND appliances, as well as the smart Sky-series appliances, are already available for purchase in Europe and the CIS states; meanwhile, following the CES' results, launch to the US market is planned for the summer of 2017.
CES 2017 is the world's largest innovative technologies exhibition, which was attended by some 3,800 companies and 175,000 visitors; the total exhibition hall area was about 250 000 m².