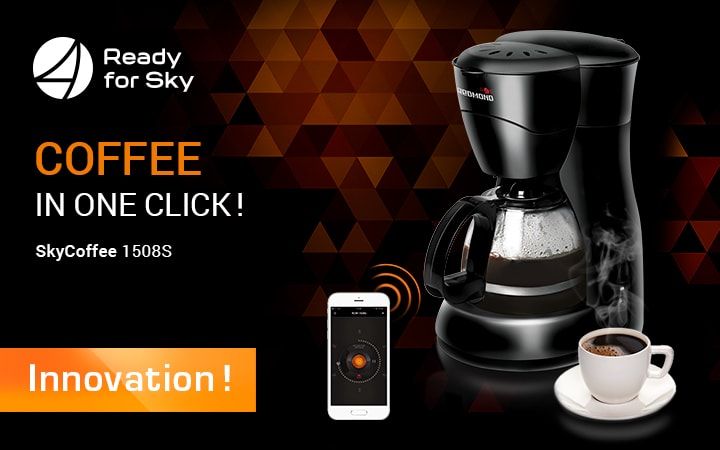 REDMOND has released a new device in the series of Smart home appliances – the drip coffee maker SkyCoffee M1508S with remote control technology.
The smart coffee maker can be controlled remotely from the smartphone via Ready for Sky application unique for all Sky appliances. In the nearest zone (50 m) the device can be controlled via Bluetooth, in the far zone it can be controlled via Internet with the help of the app R4S Gateway on your Android smartphone/tablet.
The user can turn the M1508S on from any distance and the device will start to make coffee or reheat the prepared drink. In addition, you can check the operation status of the smart coffee maker and turn the device off or activate the automatic shut off function (up to 60 minutes of reheating).
The smart coffee maker uses ground coffee and is also suitable for brewing tea or making herbal drinks.
The M1508S is also safe to use. The SkyCoffee provides protection from switching on in case of misassembles; overheat protection and automatic shut off function. The coffee pot is made of heat-resistant glass, preventing it from getting burnt. The volume of the pot (600 ml) would be enough to make drinks for several people at once.
For your convenience, the coffee maker has an "Anti-drip" feature which prevents the leaking of the drink on the table. The user can easily pour the coffee into a cup before the end of the coffee making process.
Smart coffee maker SkyCoffee M1508S is easy to control and has convenient functions which will save your personal time.
---
Coffee in one click!